Find the
Cheapest
Easiest
Fastest

way to send money abroad
Banks are notorious for charging fees. Fees for sending money abroad are typically broken down into 3 categories:
These fees can add up quickly, which means both you AND your receiver end up paying more than expected.
With Transferly, we help you save the most money possible for each transfer.
Simple. We search and compare trusted & qualified money transfer providers to find you the lowest rates to send money online in seconds.
You can save a considerable portion of fees by using the best money transfer provider.
Our service is 100% free to use. We don't collect any of your date. All we do is help you save money.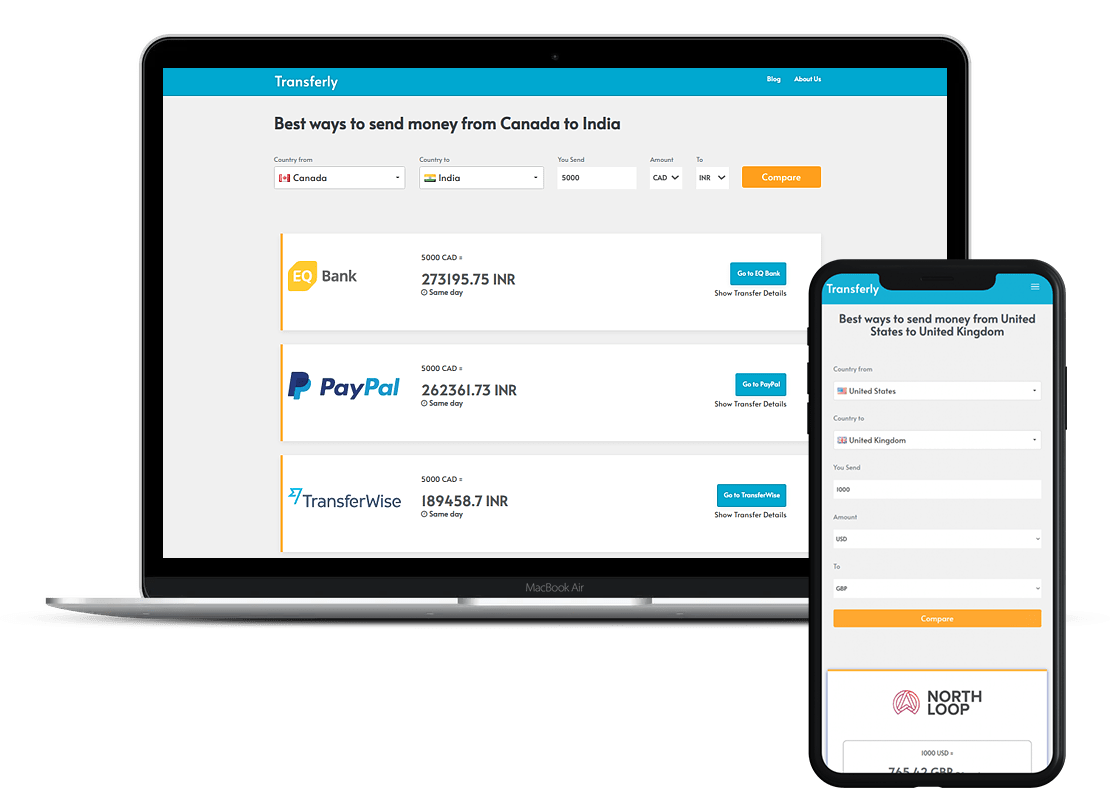 Time is very limited these days, so going to the bank to fill out wire transfer paperwork feels outdated and way too time consuming.
Our mobile-friendly price comparison engine can help you find the fastest and cheapest way to send money while you're on the go. No app necessary!
Transferly will work from any internet-connected device: everything from a cell phone to a tablet to a desktop.
This means no matter where you are, or what you're doing, you can always find the best ways to send money worldwide
How long does the transfer take?
There's multiple factors involved in determining this. The most impactful are:
What method you want to use to send money
The timing of your money transfer (since exchange rates change frequently)
Which countries you're sending money between
A cash pickup transfer can take up to a day to be received, and bank transfers can take a few days, but mobile wallet transfers are instant, for example.
If you want to send money on or during a weekend, that can also delay your transfer, depending on the method you use.
Why would I use Transferly instead of my bank?
Traditional banks typically charge fairly significant fees to send money internationally. In order to avoid this, we recommend using one of the money transfer services that we've vetted on your behalf.
These services provide faster transfer times, lower fees, and the same level of security as your bank.
How do I know that the money transfer website is secure?
When you enter any private data in a website, such as a credit card or bank account information, you can make sure that the site is secure by checking:
You should see a padlock icon on the left side of your browser's address bar
The website URL istelf should start with https – the "s" means "secure".
Not to worry, though, the only money transfer sites that Transferly recommends have been pre-verified by us to be secure.