Transferly's Official Review of
SendWave
A comprehensive SendWave review and breakdown of how to send money with SendWave online including their Fees and Exchange Rates, Transfer Speed, Quality of Service, and more.


SendWave Rating Breakdown
Fees & Exchange Rates
80%
Customer Satisfaction
70%
BDT, CAD, EUR, GBP, GHS, KES, NGN, TZS, UGX, USD, XOF
Here are the main benefits you get when using SendWave to transfer money.
Even though SendWave comes with many great advantages, there are also some downsides:

SendWave is a mobile app that allows you to transfer money from the USA, UK, and Canada to a variety of African countries. It allows you to quickly and safely transfer funds — in fact, the majority of transactions clear almost immediately. One of the main benefits of SendWave is that it does not charge you with any transfer fees whatsoever. However, exchange rates come with a small markup, which is insignificant when compared to what some other money transfer services have.
In this article, we will explore all SendWave has to offer in terms of coverage, functionality, and safety. We will also see what people say about the app and answer the most common questions users have when they get started with SendWave.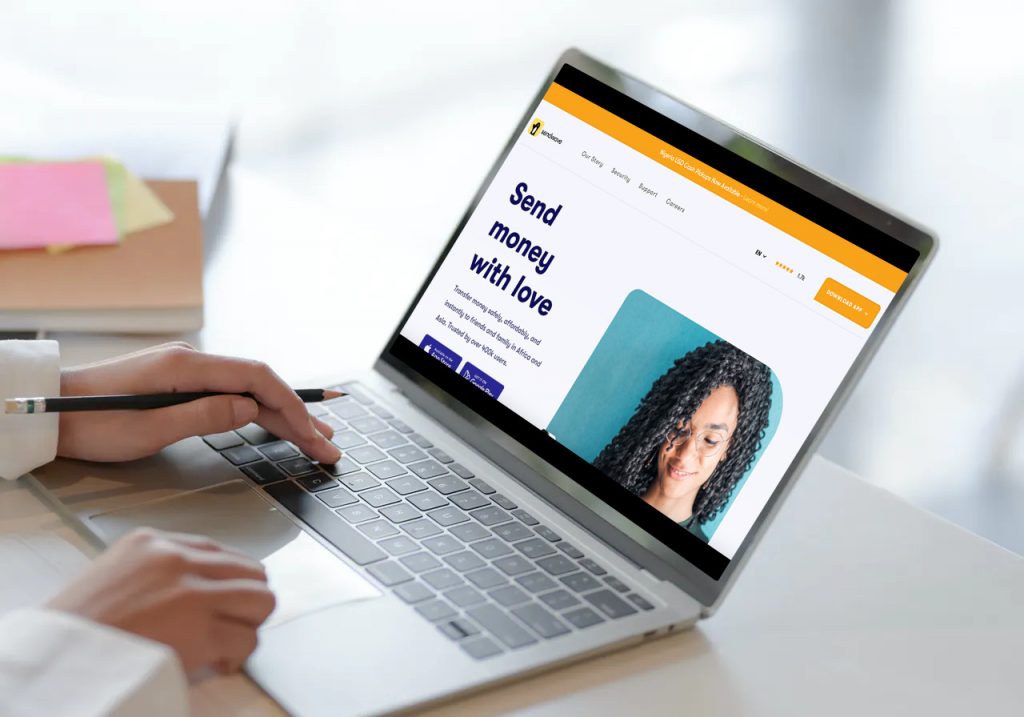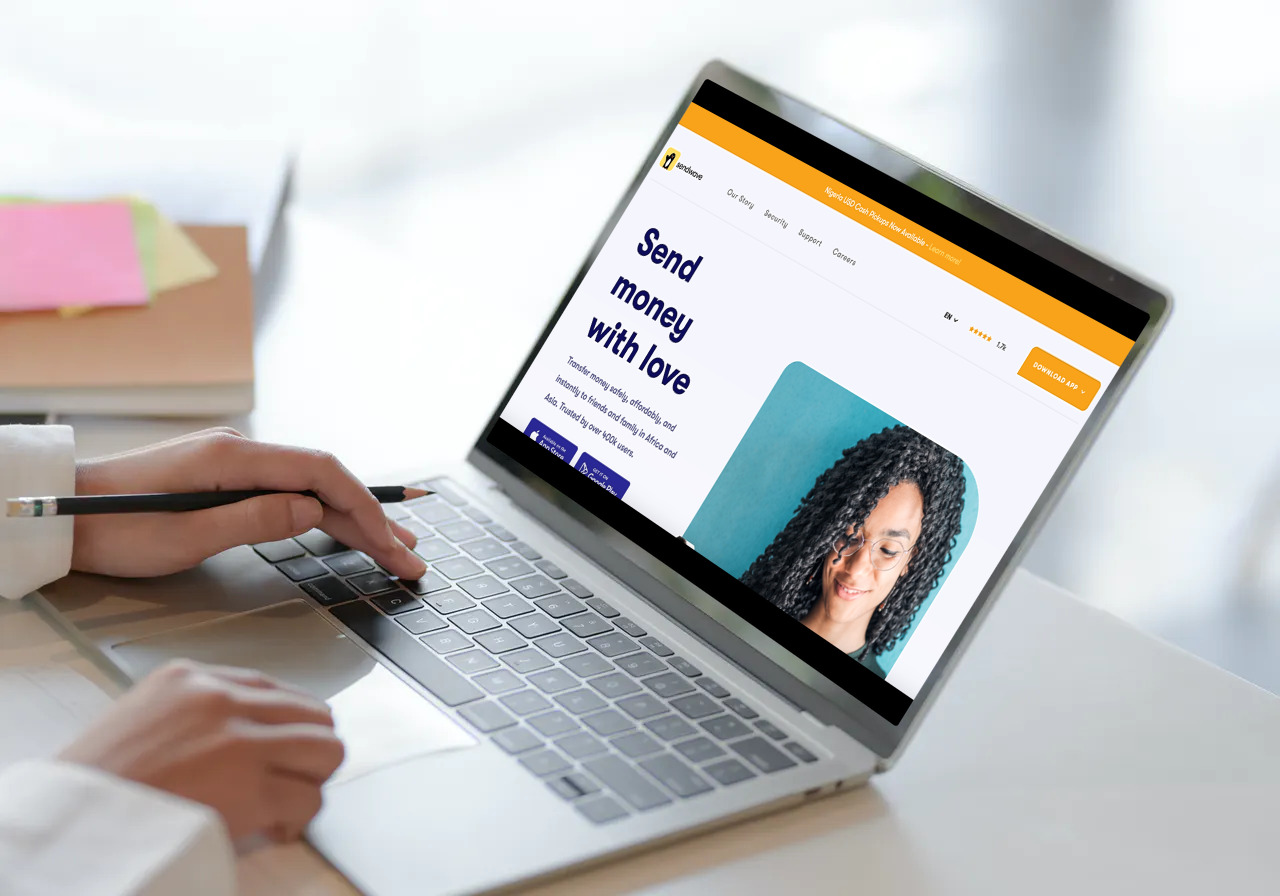 SendWave is a money transfer service that lets users instantly send money to Africa. The platform is only available as a mobile app and while it offers limited coverage, it does not charge any fees and does currency exchange at extremely competitive rates. SendWave allows you to send money from the USA, UK, and Canada. The list of African countries that can receive payments via the app includes Ghana, Kenya, Nigeria, Tanzania, and Uganda. New supported countries are made available all the time, with the list constantly growing.
As we already mentioned, SendWave does not charge users any transfer fees. However, the company behind it makes a bit of profit by adding a 1%–5% markup on the exchange rates that the platform operates with. For certain country combinations, there might be platforms that offer more favorable rates — make sure to always compare your options when choosing a money transfer service.
How Does SendWave Work?
SendWave is a simple-to-use money transfer platform that allows you to send funds to numerous African countries in a manner of seconds. You need to download and install the app first — after that, you need to create an account. The process takes less than a minute and requires you to provide your name, email, and phone number. Once you are set up, you can use your debit card to fund a transfer at any time, without any fees. 
While SendWave does currency exchange at above-market rates, the margins it has are much smaller than what competing services have to offer. On top of that, most big money transfer providers will also charge you a transfer fee in addition to the inflated exchange rates. With SendWave, the only thing you have to consider is exchange rate markup — that makes the platform much more cost-efficient for many country combinations.
Payment Methods and Transfer Limits
When it comes to payment and delivery methods, SendWave is somewhat limited. The only way you can fund your account is via debit card — credit cards, PayPal, and bank transfers are not supported. As far as delivery options go, the app allows recipients to get money via a mobile wallet. There do not appear to be other means of delivery, even though the company's website mentions being able to send directly to a bank account.
As with most other money transfer platforms, SendWave comes with its own transfer limits. Upon registration, you are limited to sending $999 per day and $2,999 per month. If you provide additional identification and complete your profile, your limits will be increased. The maximum amount you can send is $2,999 per day and  $12,000 per month — that is only if you have entirely verified your account.
SendWave Fees & Exchange Rates
As we already mentioned, SendWave does not charge you any fees for transferring money. However, certain banks involved in the process might impose their own fees for the transaction. This process is out of SendWave's control, as they cannot determine the policies of the banks. As a result, the money received might be slightly less than the money sent, due to the fees charged by the bank.
Below, you can see some cases in which a bank might charge you for your SendWave transfer.
SWIFT protocol transfers

Wire transfers from or into a bank account

Receiving money into a bank account

Transit fees, in case an intermediary bank is involved
Make sure to check if there are any applicable bank fees before you execute your SendWave money transfer.
SendWave puts a markup on all currency exchange operations, making the amount received slightly less than what was initially sent. The markup depends on the country combination for the specific transaction — generally, it is between 1.5% and 5%. While the rates for some country combinations are quite competitive, there are better options to consider for others. Here are some of the USD exchange rate markups at SendWave as of 30.09.2020.
Bangladesh — 1.44%
Ghana — 4.51%
Kenya — 2.65%
Nigeria — 0.88%
Senegal — 2.97%
Tanzania — 2.76%
Uganda — 2.97%
To illustrate how the markup affects your transfers, let's look at a specific example. Let's say you want to transfer $100 from the USA to Uganda. One US dollar is worth around 3,668 Ugandan shillings as per the standard mid-market rate. With SendWave, you get a 2.97% markup, which means that $1 will be worth around 3,559 Ugandan shillings.
When you send $100 dollars, you are actually sending 366,800 Ugandan shillings. However, due to the markup, the recipient will receive 355,900 Ugandan shillings instead. The difference of 10,900 Ugandan shillings (around $2.97) is collected by SendWave instead of a transfer fee.
How much can I send with SendWave?
Just like with all other money transfer services, SendWave too imposes certain restrictions on the amounts of money you can send. While the initial transfer limits are a bit restrictive, you can increase them by submitting more personal information and verifying your account. All of this is made for security reasons — the more detailed your account is, the more money you can transfer.
As soon as you create your account, you will be able to send up to $999 per day and a total of $2,999 per month. If you submit all needed personal documents, your limits will be raised to $2,999 per day and $12,000 per month. Examples of personal documents you need to provide include government-issued ID, Social Security Number, driver's license, etc.
SendWave was launched in 2014 and has quickly become one of the leading transfer services for sending money to countries in East and West Africa. The app is known for its safety and security — your money is protected by 128-bit encryption and is never stored in a SendWave bank account. On top of that, none of your personal information is kept on the company's servers, so there is no risk of data theft or leaks.
The company itself is fully regulated and licensed to operate in all countries it supports. SendWave adheres to all laws and regulations in the industry, providing users with secure international money transfers. Overall, you do not need to worry about safety when sending money through this platform.
Based on the reviews we checked out on both Google Play and the Apple Store, SendWave enjoys predominantly positive reviews from users. Of course, there are some negative testimonials, most of them concerning the app's limited coverage. In the lists below, we have gathered some highlights from the reviews we found.
Advantages According to Users:
As mentioned, SendWave enjoys a high rating both on Google Play and the Apple Store. Here are some of the common features that people praise:
Disadvantages According to Users:
While the majority of reviews SendWave gets are positive, there are also negative reviews here and there. It is important for us to point out that the team behind the app takes the time to respond to them and solve the issue if possible. Let's take a look at the main negatives people find regarding SendWave:
One of the biggest advantages of SendWave is the app's simple yet effective design. Sending money is a fast and streamlined process that takes less than a minute to execute. All you need to do is to submit the name and phone number of your recipient and choose the amount you want to send them. You will also have to input your debit card number in order to fund the transfer.
Of course, you need to have registered an account with SendWave before being able to make transactions. You are eligible to create an account if you are 18 years old or above and a resident of one of the supported countries (the USA, the UK, and Canada). You also have to own a valid debit card and a bank account. While you can use SendWave without submitting all required identification, you will have to provide some in order to raise your transfer limits.
If you want to test out SendWave for yourself, you will be happy to learn that the app is intuitive and user-friendly and the registration process is quite simple. Below, you will find a short tutorial on how to make your first SendWave transfer.
There are two ways to contact SendWave's customer support — by email and phone. Below is the direct contact information you can use to get in touch directly with SendWave customer support staff:
As we already mentioned, SendWave is only available as a mobile app for Android and iOS. We need to point out that the app is state-of-the-art and allows users to quickly and safely make money transfers while on the go. On Google Play, the app has a rating of 4.2/5, based on more than 17,000 reviews. On the Apple Store, SendWave has a rating of 4.5/5, based on a little over 5,000 reviews.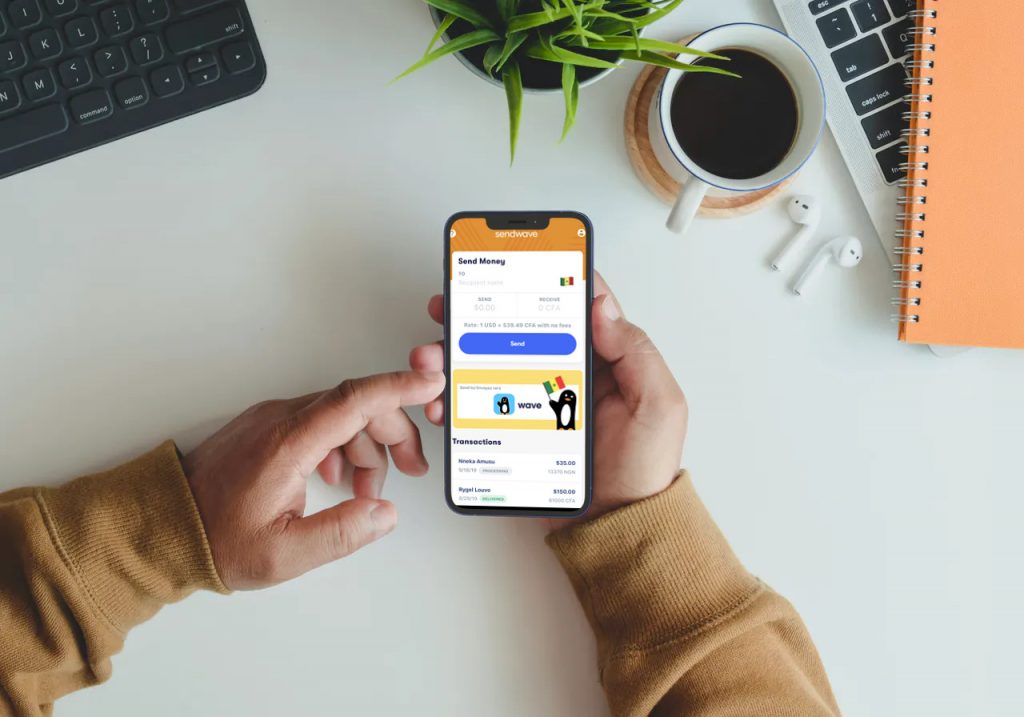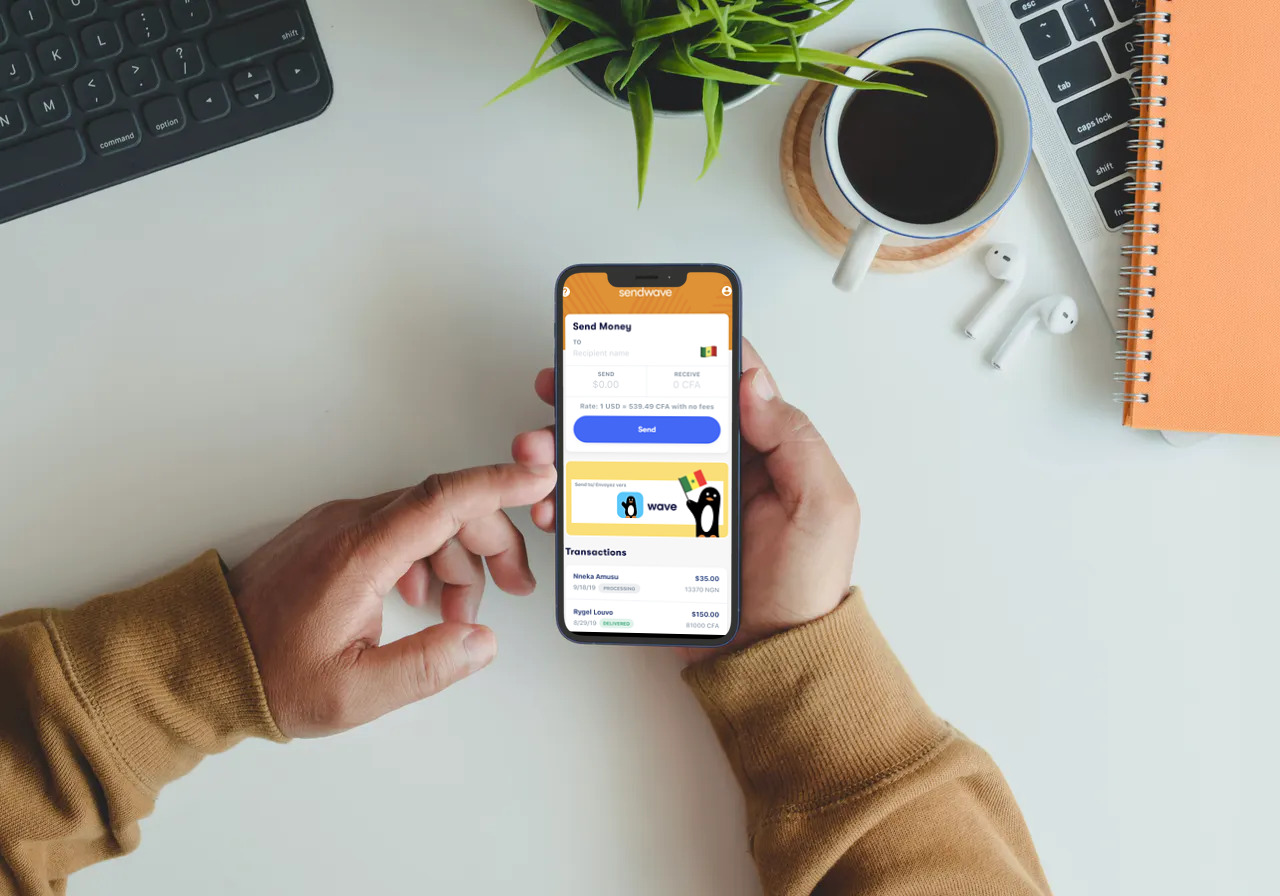 Some of the great features of the SendWave mobile app include:
Other than that, it's possible to share order information with our contacts. Better still, the app allows us to check the exchange rates wherever we are so that we're always a step away from the best money transfer
SendWave is a great money transfer service that allows you to send money to African countries that are not usually supported by most other similar platforms. It does not charge you any transfer fees and has competitive and transparent exchange rates. The mobile app itself is simple and intuitive to use and allows you to quickly make transfers while on the go.
Is SendWave Safe to Use?
SendWave is a fully regulated money transfer service that is licensed in all countries where it operates. It strictly follows all laws and safety regulations, making sure your money is secure. All transactions are protected by 128-bit encryption and none of your personal data is saved.
How Much Can I Send with SendWave?
When you first create your SendWave account, you will be limited to sending $999 per day and $2,999 per month. You can raise your limits by providing more verification and documents needed to confirm your identity. If your account is 100% verified, you will be able to send up to $2,999 per day and $12,000 per month.
What Payments Does SendWave Accept?
The only payment method available at SendWave is via debit card. The platform does not support credit cards or PayPal, as those methods will result in additional fees charged for your transaction.
Why Can't I Use a Credit Card or PayPal with SendWave?
To put it simply, SendWave chooses not to support credit cards or PayPal because of the processing fees involved with those payment methods. By using a debit card, you will not be charged anything extra when making your transfer through the app.
How Long Does a SendWave Money Transfer Take?
Standard transactions at SendWave take no more than 30 seconds to clear. This is because the only delivery method is via money wallet transfer, which is generally the fastest option you can get.
Can I Cancel a SendWave Transaction?
While it is possible to cancel your SendWave transaction, it is often almost impossible to do, since transfers clear almost instantly. If you are fast, however, you can choose to cancel the transfer through the mobile app's interface.
Where Can I Use SendWave?
SendWave is licensed to operate in the US, the UK, Canada, and the EU.
How Do I Contact SendWave's Customer Support?
You can contact customer support directly through the SendWave app. Below, you can find the official information available on their website.
Official Customer Support Email: [email protected]
US and Canada Customer Service: +1 888 966 8603
US Headquarters: 100 M Street SE, Suite 600, Washington, DC 20003 USA
UK Customer Service: +44 113 320 7935
UK Headquarters: 11 Hanover Road, London, England, NW10 3DJ
Can I Use SendWave to Transfer Money to Nigeria?
On November 30th, 2020, the Nigerian Central Bank declared that all remittances must be paid out in USD. This forced SendWave to stop offering standard transfers to Nigeria — however, there is now a new way to send money to this country. In collaboration with Access and Zenith Bank, SendWave now offers cash pickup as a delivery option for Nigeria.
How can I track a Sendwave money transfer?
You will be notified by email as soon as the transaction clears and your recipient can get their money. Also, you will be able to track the status of the transfer within the app itself. If any issues come up, the SendWave customer support team will contact you immediately.
Our team at Transferly is dedicated to finding the best deals for you to send money abroad. We research, analyze, and review money transfer providers big and small to help you find the best providers for your money transfers. With our real-time money transfer comparison engine we find the fastest and cheapest ways for you to send money online. We provide ratings based on several important criteria to our readers.