Transferly's Official Review of
MoneyGram
A comprehensive MoneyGram review and breakdown of how to send money with MoneyGram online including their Fees and Exchange Rates, Transfer Speed, Quality of Service, and more.


MoneyGram Rating Breakdown
Fees & Exchange Rates
40%
Customer Satisfaction
70%
AED, AFN, ALL, AMD, ANG, AOA, ARS, AUD, AWG, AZN, BAM, BBD, BDT, BGN, BHD, BIF, BMD, BND, BOB, BRL, BSD, BTN, BWP, BYN, BZD, CAD, CHF, CLP, CNY, COP, CRC, CZK, DJF, DKK, DOP, DZD, EGP, ERN, ETB, EUR, FJD, GBP, GEL, GHS, GIP, GMD, GNF, GTQ, GYD, HKD, HNL, HRK, HTG, HUF, IDR, ILS, INR, IQD, IRR, ISK, JMD, JOD, JPY, KES, KGS, KHR, KMF, KRW, KWD, KYD, KZT, LAK, LBP, LKR, LRD, LSL, LYD, MAD, MDL, MGA, MKD, MNT, MOP, MRO, MUR, MVR, MWK, MXN, MYR, MZN, NAD, NGN, NIO, NOK, NPR, NZD, OMR, PAB, PEN, PGK, PHP, PKR, PLN, PYG, RON, RSD, RUB, RWF, SAR, SBD, SCR, SDG, SEK, SGD, SLL, SRD, SVC, SZL, THB, TJS, TND, TOP, TRY, TTD, TWD, TZS, UAH, UGX, USD, UYU, UZS, VEF, VND, VUV, WST, XAF, XCD, XOF, XPF, YER, ZAR, ZMW
When it comes to sending money abroad, it's safe to say that users aren't so limited in choice. However, the quality of a money transfer company is reflected in its strengths and weaknesses, as well as its customer support and ease of use. So today, we'll be covering one such company — MoneyGram — in the hope of answering these questions:
How does MoneyGram work?
What is MoneyGram used for?
How much does it cost to send money through MoneyGram?
How safe is MoneyGram?
Want to know how to use MoneyGram properly, i.e., without losing too much money in the process? By the end of the review, you'll know whether this money transfer giant is the best choice for you due to its coverage and reputability — or if you should "shop around" a bit more for a better option.
If you're looking for a good way to send money in-person or online, MoneyGram is a viable option in certain circumstances. Though the company isn't as large as Western Union, it comes in at a close second and offers lots of advantages some other money transfer services can only dream about.
For the most part, users are satisfied with MoneyGram because of its rates, which can be rather low in some situations. Furthermore, its reliability is hard to be disputed, given that it has years of successful service behind it.
It sounds like the ideal company, doesn't it? But alas, just like with most things in life, even MoneyGram has some faults. One of the biggest ones boils down to hidden fees you will have to honor when sending money to certain countries. For some people, this may be a deal-breaker, so they may want to drop MoneyGram for a lower-cost provider.
MoneyGram is an international money transfer service that allows you to send money to 20+ countries by visiting a MoneyGram location or using the mobile app or the official website.
Cash, credit, or debit cards — it's all possible with MoneyGram, and if you're in the US or Canada, you can even use your bank account to transfer money. On top of that, the funds you send can be quickly deposited in the recipient's mobile wallet, prepaid card, or bank account in some countries. Even better, they may even get the cash delivered right to their doorstep.
The greatest advantage of MoneyGram is, in short, its wide reach and network of agent locations. This allows you to send money both online and offline, never worrying whether you'll even get a chance to do it in the first place.
The convenience is definitely there, which is why MoneyGram has so many fans across the world. Plus, the safety of the money is all but a guarantee. After all, its lengthy service track record, as well as the scale of the company, speak volumes about its efforts to ensure secure money transfers — and its success rate.
MoneyGram Fees & Exchange Rates
Unfortunately, the MoneyGram fees for sending money aren't fixed by any means and are going to vary depending on whether you're transferring money in-person or online. Besides, MoneyGram decides on the fees by evaluating how much money you're sending and can increase and even double them when you cross a certain limit. Therefore, the fee won't be the same for every amount.
Because of that, it may make more sense to some people to actually send the money in increments (two smaller payments instead of one, for instance). These are the general guidelines to keep in mind if you're looking to get the best deal:
Transfer method – It is cheaper to send money with MoneyGram online than at a location and pay via bank transfer IF you are sending it for a cash pickup. In general, try to choose bank transfer whenever you're using the MoneyGram online service.
Location – In contrast, if you want to send the money to a bank account, it's better to go to an agent location and use whichever method you prefer. You may get to save some money that way, and overall, sending money to a bank account is less expensive than a cash pickup. However, keep in mind that the fees also depend on where you are.
Cheapest vs Most Expensive – Usually, the cheapest method is to pay via bank and send the money to a bank account. The most expensive one would be to use a credit card and opt for a cash pickup.
How much does a MoneyGram cost a single user? Well, you'd think that the fees would be the only thing you'd have to pay over the amount you're looking to send. Unfortunately, the company also adds a margin to the exchange rate, which is a standard practice in general. In a nutshell, that means the exchange rates it offers aren't as great as the real mid-market ones. Sometimes, this difference can go over 5%, which is a huge loss for you and a big win for MoneyGram.
Because of that, you do have to be on the lookout for the strongest rates and the lowest fees. Only that way will you avoid having every transfer cost you an arm and a leg — be smart, save money by doing research!
Now, usually, we are all looking to make money transfers fast and for the lowest fee achievable. When it comes to MoneyGram, though, the speed will depend on the fees and how badly we need the money to be sent as soon as possible.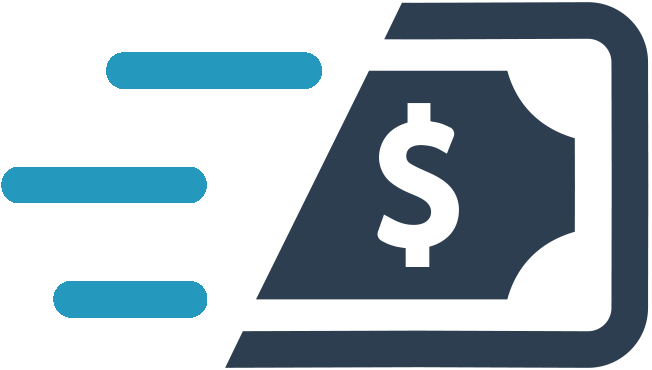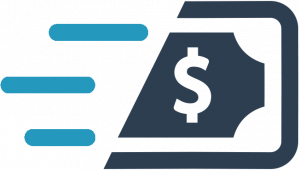 How long does it take for MoneyGram to send money abroad?
MoneyGram has two options you can select when sending money. Depending on how quickly you need the money to arrive you can choose from the two options that meet your requirements:
1. Fastest Transfer Option – Delivery in about 10 minutes
In contrast, when using a credit or debit card, we'll ensure that the money comes through faster — albeit at a higher price. There might be a cash advance fee on our credit card too, so the cost may grow even more. On the other hand, it really is super-quick, as the money will be available in roughly 10 minutes.
2. Slower Transfer Option – up to 5 business days
Naturally, the cheapest methods often are the slowest, while the most expensive ones are the fastest. If we opt to use a bank account, then we have to be prepared to wait for about five business days. And it can be even longer if it's our first time sending money — the company has to verify the account before the first transfer, which can take about five business days as well.
But MoneyGram doesn't take it all for granted. Instead, it makes sure it is compliant with the various laws and regulations imposed by the countries it operates in:
The company is licensed all across the US in all 50 states. On top of that, it is licensed in Puerto Rico, Guam, the US Virgin Islands, and the District of Columbia.
MoneyGram is able to provide services throughout the European Economic Area since it is licensed in the UK as well. It is an Authorized Payment Institution in the United Kingdom.

The company's compliance doesn't end there, as countries and different jurisdictions can impose other regulations too, which ought to protect clients' funds at all times. Some examples include minimum capital requirements, agent oversight, compliance with operational procedures, and similar.
Those wondering how MoneyGram works, and more importantly, if it's safe to use, will be happy to know that the company is serious about providing every client with top-notch service. Because of that, it tries to maintain its well-earned reputation by staying on top of its compliance program (the company invests about $50,000,000 each year on average) and ensuring the quality of the service is never compromised.
Is MoneyGram safe to use? One thing that speaks volumes about the company is that it is an industry giant and a multinational company with more than 2,500 employees all over the world. But its success didn't happen overnight; it kept growing over the last 80 years and required a variety of changes, including acquisitions and mergers, that allowed it to grow not just in size but in expertise as well.
Today, it is even traded on NASDAQ and has a market cap of $451,059,093 (November 2020). Furthermore, its presence is evident in a great number of countries, with many users praising the quality of the service and adding to the company's growing reputation. Thus, the brand is famous all over the world, not to mention known as a reliable money transfer provider with an impressive number of agent locations that not many competitors can boast with.
Overall, we could say that MoneyGram gets a good share of fairly positive reviews. MoneyGram US has an overall rating of 4.0 on Trustpilot and 3,891 reviews in total (November 2020). However, there are a few negative ones here and there.
We have to remember, though, that the company doesn't invite customers to leave positive reviews. Because of that, the Trustpilot reviews may unfairly show it in a bad light.
As far as the complaints go, customer service is the biggest dealbreaker for most users. The online portion of the money transfers seems to be one of the company's greatest strengths, as most customers are satisfied with it. A few had some issues, though, which is definitely something to keep in mind — there is some inconsistency we aren't too happy about.
Advantages According to Users:
Disadvantages According to Users:
MoneyGram allows us to send money overseas at an agent location or online with a MoneyGram online transfer. There are a number of payment methods at our disposal. When sending the transfer online, we can use credit or debit cards or our bank account. If we're making the transfer from an agent location, we can also use a check or cash.
Since MoneyGram's reach is so wide, your country likely has a MoneyGram location (or multiple ones). If you don't mind setting up the transfer in-person, all you have to do is find the nearest location on MoneyGram's website, visit it, and pay for the transfer there. Don't forget to bring a valid ID, the money (plus fees!), and information about the receiver. Also, pick up your receipt afterward to have proof you sent the money (in case of any disputes, of course).
If you're near a CVS or Walmart, you could try out your luck there and see if it's possible to send MoneyGrams from those locations. There are Walmart MoneyGram locations nationwide. However, to stay on the safe side, we do recommend finding a local agent through the official website.
With MoneyGram, you can easily send money across the globe in just a few simple steps. Here is what to do when setting up an online transfer via the website:
There are a few other options to consider here. Weirdly enough, we can send MoneyGrams via Facebook. We just need to have an account and follow the prompts issued by the MoneyGram Sendbot.
It's also possible to set up a transfer online but then visit an agent location and pay for the transfer in cash on the spot. We have to bring a valid ID, in that case, as well as money to pay for not just the transfer but any impending fees.
How does a MoneyGram work when completing it online? Even though it may sound overly complicated, we only need a few things to get started:
Is using MoneyGram online safe? Of course, as long as you double-check the information and ensure everything is filled out correctly. Also, keep in mind that the company has done its best to protect its website with administrative, physical, and technical measures. It is also verified by Entrust, Inc.
The following are the options we can pick for the receiver, i.e., how the money will be delivered:
Is using MoneyGram online safe? Of course, as long as you double-check the information and ensure everything is filled out correctly. Also, keep in mind that the company has done its best to protect its website with administrative, physical, and technical measures. It is also verified by Entrust, Inc.
There are two ways to contact MoneyGram's 
customer support
 — by email and phone. Below is the direct contact information you can use to get in touch directly with MoneyGrams customer support staff:
Since most of us are used to doing everything on our phones, it's only natural for MoneyGram to have an app too. It's available on both the App Store and Google Play, and as far as the user reviews go, it's fairly reliable. The app covers a range of features:
Other than that, it's possible to share order information with our contacts. Better still, the app allows us to check the exchange rates wherever we are so that we're always a step away from the best money transfer
MoneyGram is definitely a fan-favorite among those looking for fast domestic and international money transfers. However, we cannot help but wonder whether there are cheaper options out there. Before sending the transfer, we do suggest comparing the rates and fees. Shopping around may be a bit tedious, but it pays off in the long run — just imagine how much money you could save by just thinking in advance and doing your research properly!
How can I avoid MoneyGrams fees?
It's impossible to avoid the fees completely, but other options do exist. There are a few ways you could lower them. For example, you could:
How much does it cost to send a MoneyGram transfer?
To confirm the exact amount of a MoneyGram transfer you must enter in the details of your transfer as the cost depends on four factors:
The amount
The country the transfer is being sent from and the recipient's country
Your preferred payment method
The pickup (delivery) option.
To get an estimate, you can use MoneyGram's estimator.
Is MoneyGram safe to send money abroad?
Yes. With over 80 years in the business, MoneyGram has established a rock-solid reputation that speaks volumes about the safety of the money transfers, no matter if they're done in the same country or across the globe. On top of that, it's the second-largest money transfer company in the world, right after its competitor, Western Union.
Of course, the company's expertise is one thing — its reputation also depends on its compliance with laws and regulations. As we have established, the company has gone the extra mile to ensure it is compliant in all of the countries it operates. Apart from that, it also has its own Global Partner Compliance Policy, which aims to protect clients from criminal acts like fraud, money laundering, etc.
What Is the Maximum Amount of Money You Can Send Through MoneyGram?
If you are using the online platform, you can send up to $10,000 per transaction with MoneyGram. Keep in mind that the monthly limit is also $10,000, so one maximum transaction will prevent you from making more for the month. Agent locations usually support larger maximum transfer limits than the online service.
How much money can I send with MoneyGram?
In most countries, you can send only $10,000 (or equivalent) per transaction if you're doing an online transfer. There is also a monthly (30 days) limit of $10,000.
However, that doesn't mean you cannot send more money. You would have to visit an agent location to make a bigger transfer, though, and bring a valid ID.
How do I fill out a MoneyGram money order?
In case the recipient doesn't have a checking account, you can opt for a money order transfer. Here's how to fill out one correctly:
1. Pay for the transfer at a MoneyGram location – Check and confirm that the amount on the money order is how much you paid. In case it isn't, talk to the agent to resolve the issue.
2. The beneficiary's name goes in the "pay-per-order" line – It must be spelled correctly, so double-check the name. After all, they are the only ones who can use the money order.
3. Sign yourself at the "Purchaser, Signer for Drawer" line.
4. Add the address and again, check the spelling – If necessary, add your date of birth (security reasons) and email address (for notification purposes).
5. Remember to keep the receipt so that you can check if the recipient got the money.
All money orders should be filled out completely, and they should be easy to read with clearly written information. Because of that, we recommend opting for black ink. Once the order is done, you can send it by mail or deliver it in-person.
Can you send MoneyGram online?
There are three ways to send money with MoneyGram: in-person at an agent location, via an app, or online.
How fast is MoneyGram online?
If you want the money to go through fast, be ready to pay for a more expensive method and opt for a credit or debit card transfer. It should arrive in about 10 minutes or less.
How do I cash a MoneyGram money order?
This largely depends on where you are, i.e., your country. Walmart or CVS is a good option if you're in the US, but you can also try an agent location as well. Depending on where you have your account, you may be able to transfer the money to a bank or some other type of account (like a credit union one, for example).
How do I receive money from a MoneyGram transfer?
Once again, it all depends on your location, the information provided by the sender, and the currency, among other things. Not all of these options will be available in your country:
Bank account – deposits to bank, credit union, or other types of accounts
Debit card transfer
Mobile wallet transfer. You can use M-Pesa too, and even SmartMoney is covered
Cash pickup at an agent location with a valid ID
Home delivery made by a local agent.
How can I track a MoneyGram money order?
Yes, you check the status of your MoneyGram transfer and track a MoneyGram money transfer in 3 ways, by Phone, Online, and In-person. For all three methods, we will need the authorization or reference number of the transfer. You can find it on the receipt. Alternatively, you probably got an email with it as well. When contacting customer service or using the Track a Transfer tool, you will also need to say/input our last name. Providing such information at an agent location is a must as well.
Call the company – The toll-free number for the US is 1-800-542-3590. Please provide your details when prompted by the automated system.
Track it online – MoneyGram tracking is also available online. You can log in and track the transfer through your account by checking the transaction history. If you don't have one or you're the beneficiary, you can use the tracking tool available on MoneyGram's website.
In-person at agent location – you can go in-person to a MoneyGram agent location and they can provide the updated tracking information for you money transfer.
Can I pay bills with MoneyGram?
One of the neater features of MoneyGram is that it allows you to pay our bills as well. If the recipient (in this case, company) is a part of the MoneyGram network, you can easily pay bills on time every single month. You can search for a specific company using the online bill pay search (by category or company name).
Can I use MoneyGram to send money to inmates?
If a loved one is currently incarcerated, you can help them out with their calling and commissary accounts by sending them money through MoneyGram. All you have to do is search for the inmate's correctional facility on the Pay Bills page and choose a payment method (online or in-person). The inmate should have the money on their accounts in 1–2 business days.
How Much Money Can You Send Through Walmart MoneyGram?
The maximum amount of money you can send via Walmart MoneyGram is $2,500. The limit used to be $900, but it has now increased substantially. MoneyGram offers lower fees for the maximum transfer than most other similar money transfer services.
How Do I Receive Money From MoneyGram to My Bank Account?
Depending on the country, you might or might not have the option to receive MoneyGram transfers directly into your bank account. If it is possible, the option "Account Deposit" will be available to the sender as a delivery method. Check MoneyGram's website for more information on which location supports the service.
Why Is MoneyGram Declining My Transaction?
There are several reasons why your MoneyGram transaction might be declined. You might have entered the wrong bank account information or your credit card might have reached its limit. We advise you to contact your bank in case such a problem occurs.
How long does it take for a MoneyGram transfer to arrive?
In general, a MoneyGram can reach the recipient in just a few minutes or in a couple of days. It all depends on the payment method and the delivery option selected upon the transfer, as well as the recipient's country and the currency.
As a reference, bank account deposits often take a few hours or a few days to go through, depending on the country, laws and regulations, and banking hours. Typically, the fastest option is a cash pickup at an agent location.
How do I cancel a MoneyGram transfer?
Once again, it all depends on how you made the transfer in the first place:
Online transfers. You can find the transfer in "Transaction History" on your account. To cancel it, simply go to the "Transaction Details" page. Alternatively, use the Track a Transfer tool to find the transaction and cancel it on that same page. You can also call the MoneyGram Electronic Operations Center or send an email to make a cancellation request.
In-person location transfers. You have to contact the company via phone, email, or website. There might be a cancellation fee. Keep in mind that the requests take up to 30 days to process.
Which is cheaper, Western Union, or MoneyGram?
On average, MoneyGram seems to be slightly cheaper than WU, but since there are so many factors to consider (country, payment method, currency, etc.), it all depends on the transfer itself. It's best to compare them once you know all the details about the transfer.
Our team at Transferly is dedicated to finding the best deals for you to send money abroad. We research, analyze, and review money transfer providers big and small to help you find the best providers for your money transfers. With our real-time money transfer comparison engine we find the fastest and cheapest ways for you to send money online. We provide ratings based on several important criteria to our readers.