Transferly's Official Review of
XE
A comprehensive XE review and breakdown of how to send money with XE online including their Fees and Exchange Rates, Transfer Speed, Quality of Service, and more.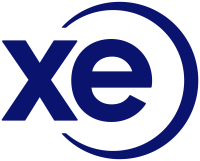 Fees & Exchange Rates
70%
Customer Satisfaction
90%
AED, AFN, ALL, AMD, ANG, AOA, ARS, AUD, AWG, AZN, BAM, BBD, BDT, BGN, BHD, BIF, BMD, BND, BOB, BRL, BSD, BTN, BWP, BYN, BZD, CAD, CDF, CHF, CLP, CNY, COP, CRC, CUC, CVE, CZK, DJF, DKK, DOP, DZD, EGP, ERN, ETB, EUR, FJD, FKP, GBP, GEL, GGP, GHS, GIP, GMD, GNF, GTQ, GYD, HKD, HNL, HRK, HTG, HUF, IDR, ILS, IMP, INR, IQD, IRR, ISK, JEP, JMD, JOD, JPY, KES, KGS, KHR, KMF, KPW, KRW, KWD, KYD, KZT, LAK, LBP, LKR, LRD, LSL, MAD, MDL, MGA, MKD, MMK, MNT, MOP, MUR, MVR, MWK, MXN, MYR, MZN, NAD, NGN, NIO, NOK, NPR, NZD, OMR, PAB, PGK, PHP, PKR, PLN, PYG, QAR, RON, RSD, RUB, RWF, SAR, SBD, SCR, SDG, SEK, SGD, SHP, SLL, SOS, SPL, SRD, SVC, SYP, SZL, THB, TJS, TMT, TND, TOP, TRY, TTD, TVD, TWD, TZS, UAH, UGX, USD, UYU, UZS, VEF, VND, VUV, WST, XAF, XCD, XDR, XOF, XPF, YER, ZAR, ZMW, ZWD
XE Money Transfer comes with a lot of great benefits, which makes it the top choice of thousands of users worldwide. Let's check out some of the key things that make this platform so successful.
Sure, there are many great benefits to using XE Money Transfer. However, the service comes with a few cons that we need to mention. Let's see which areas of the platform can use some improvement:
XE Money Transfer is a rather unique money transfer service as it does not charge you any transaction fees. It provides users with the ability to quickly send funds to over 130 countries in 60 currencies. XE Money Transfer is well-regarded for its features, coverage, and ease of use. However, it is not the optimal solution when it comes to payment and delivery methods or exchange rates.
If you are wondering whether or not XE Money Transfer is the right service for you, you need to know all the details regarding what the platform offers. In this article, we will take an in-depth look at XE Money Transfer and its various features. We will outline the benefits and disadvantages of using it and answer the most frequent questions regarding its safety, usability, and functionality.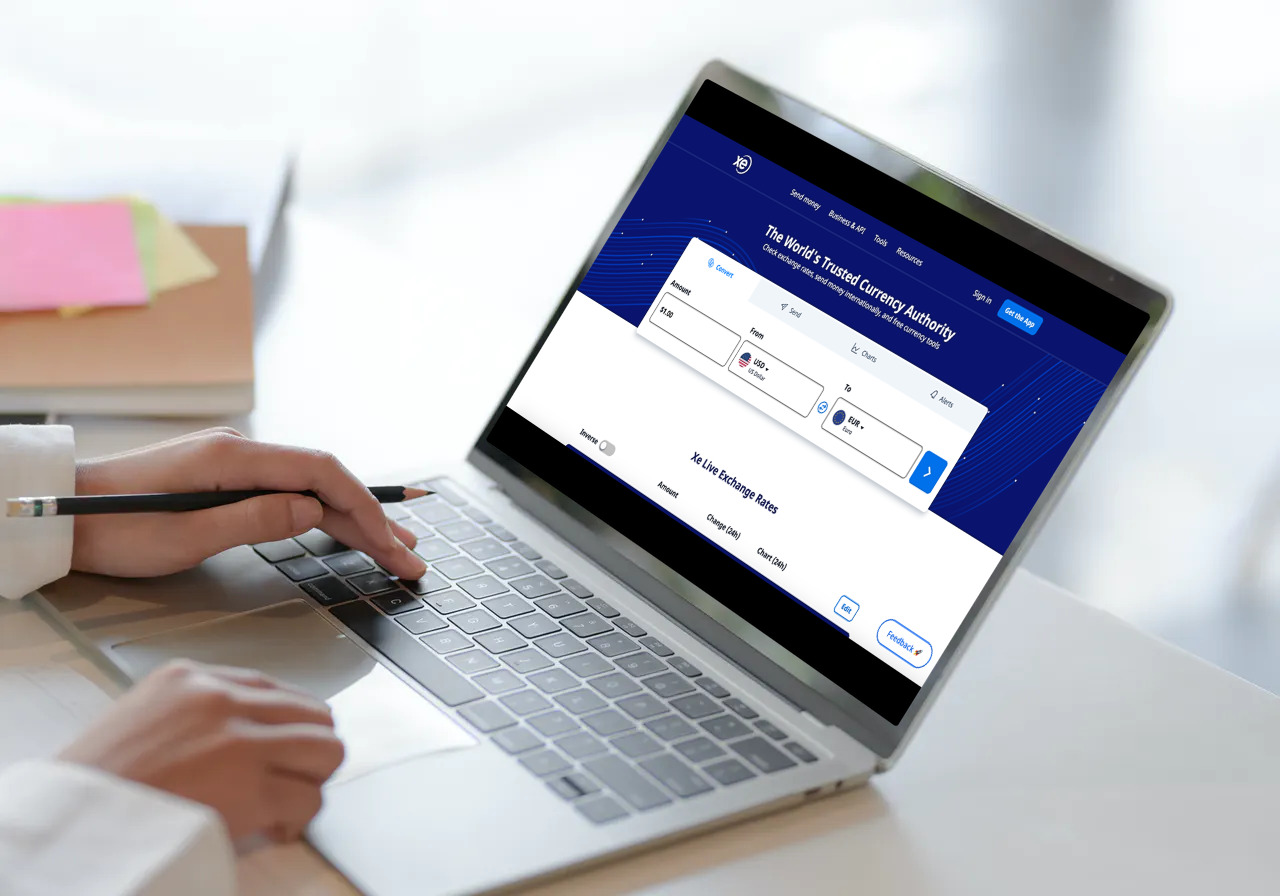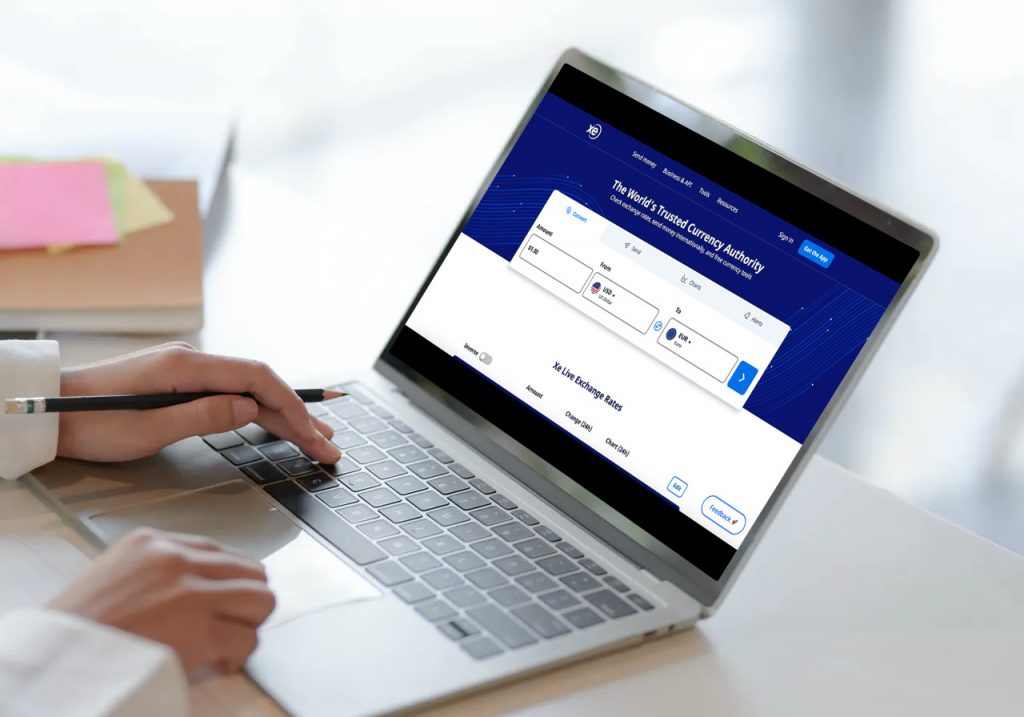 XE Money Transfer is a popular platform that allows you to send money between virtually any two countries in the world. The service enjoys overwhelmingly positive reviews from users, scoring an exceptional 4.6/5 on the testimonials website TrustPilot. A part of the international Euronet Worldwide Group, XE Money Transfer has been in business for more than 20 years now
Creating an account at XE Money Transfer is quite an easy and streamlined process which you need to complete online. Once you are set, you will be able to execute money transfers either through the online platform or via phone. When it comes to funding your transactions, the only option available is bank transfer. You are also limited to a single payment method — depositing straight into the recipient's bank account.
XE Money Transfer has great coverage that includes more than 130 countries and 60 different currencies. Perhaps the most notable feature of the platform is the fact that there are no transfer fees whatsoever. Exchange rates are competitive, even though they include a markup above the true mid-market rate. Most transactions via the platform clear within the day, and you will be notified of the status of your order via emails and text messages.
Another thing that makes XE Money Transfer stand out is the stellar customer service. For large transactions, you will get a personal account manager who will ensure everything goes smoothly. On top of that, the platform itself offers lots of handy features that help you get the best exchange rates and execute your transfers as conveniently as possible.
XE Money Transfer is an outstanding service that allows you to send money worldwide without any fees. This is the reason why so many people actively use it and share their positive experiences on review sites.
XE Money Transfer Fees & Exchange Rates
One of the main benefits of XE Money Transfer is that it does not charge you any fees. However, some fees might be incurred by the banks you are using to execute the transfer. Depending on the bank you select for payment or delivery, it might charge you a one-time fee for processing the transaction. Always make sure you check what fees are applicable when sending money through XE Money Transfer.
You might be wondering how XE Money Transfer generates revenue if it does not charge users for using the service. This is where the exchange rates at which the platform operates come in. Instead of doing currency exchange at mid-market rates, XE Money Transfer puts a margin on top, resulting in them making a profit off the difference. The typical exchange rate markup varies between 0.5% and 2% — it all depends on the country and currency combination that you are using for the transfer.
While the exchange rates at XE Money Transfer are competitive, especially when you compare them to what some other similar services offer, they are far from being the best ones out there.
XE money transfer can transfer funds as quickly as the same day, or as long as 3-5 days.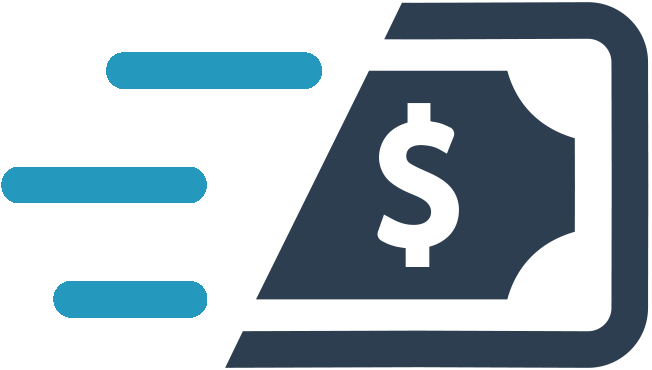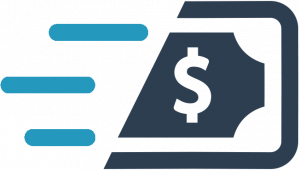 XE Money Transfer is a safe and dependable service that has been in business for quite some time now. The platform is owned by Euronet Worldwide Group — the third-largest money transfer company in the world. This NASDAQ-listed company is an industry leader that moves over $70 billion per year in money transfers, ATM withdrawals, and prepaid products. Euronet Worldwide Group is a dependable enterprise that has partnerships with brands like PayPal, Amazon, Google, Visa, Mastercard, and more.
When it comes to the XE Money Transfer brand, it enjoys a huge customer base of users satisfied with the service. Over 6,000 businesses and 100,000 private clients use the platform on a regular basis, resulting in the service moving hundreds of billions of dollars per year. All transactions made through XE Money Transfer are protected by advanced encryption and the latest security solutions.
XE Money Transfer is a fully regulated company that strictly follows all laws and rules that govern money transfer services. The platform is licensed by USA's FinCEN, Canada's FINTRAC, Australia's ASIC, and the UK's FAC. When using XE Money Transfer, you can rest assured that your money and personal information are well-protected and safe.
XE Money Transfer has some of the best online reviews we have come across when it comes to services of its kind. On the reputable review website TrustPilot, XE Money Transfer has an impressive rating of 4.6 out of 5. Out of more than 40,000 reviews, 86% of users rate it as Excellent, which is something you do not see often. Reviews usually highlight the quality of the customer service, the excellent transfer speed, the competitive exchange rates, and the lack of fees.
Below, you can see an example of a positive review found on TrustPilot.
Finding a negative review for XE Money Transfer turned out to be a hard endeavor. We did not manage to find a single overarching problem that many users encountered while using the platform. Poor reviews usually address a one-time problem or an atypical situation. Here is an example of a two-star review from TrustPilot.
It is important to mention that the XE Money Transfer customer service team addresses each negative review and works to resolve the situation as quickly as possible. To sum it all up, customer reviews for XE Money Transfer are perhaps the best ones we have seen yet.
Creating an account at XE Money Transfer is an easy and streamlined process that will take you just a few minutes to complete. Here are the steps:
After you receive the confirmation email, you will be able to start making transfers. Below, you will find how to execute your first transaction with XE Money Transfer.
The delivery time of your transaction will vary according to the country combination you are using. Most transfers clear within a day, while some may take up to 4 days.
In addition to standard money transfer services, the platform also has several handy functionalities that can help people who have more complex transaction needs. Here is a rundown of the special features XE Money Transfer offers:
With XE Money Transfer, you can do transactions while on the go by using the proprietary mobile app. It gives you access to all functionality that the platform offers, along with some extra features.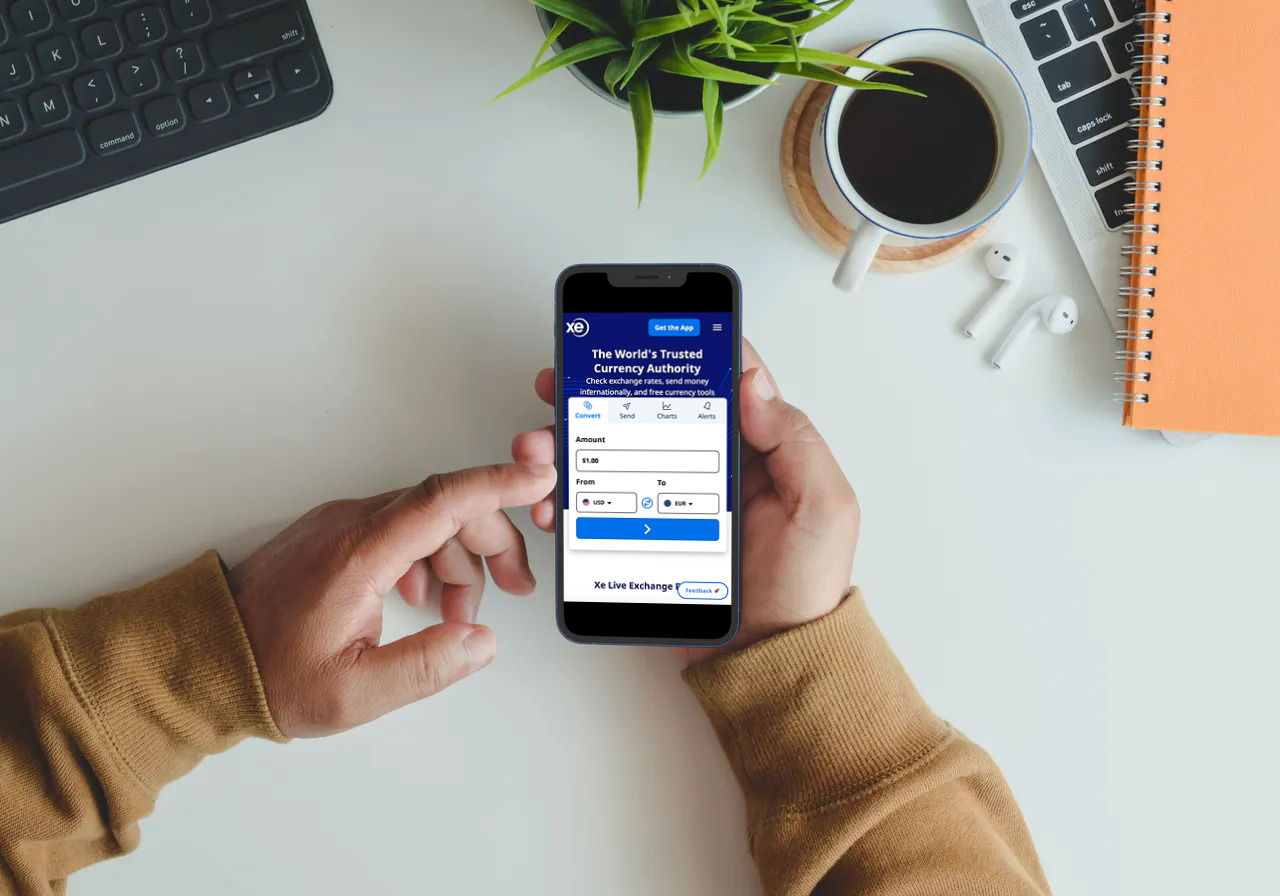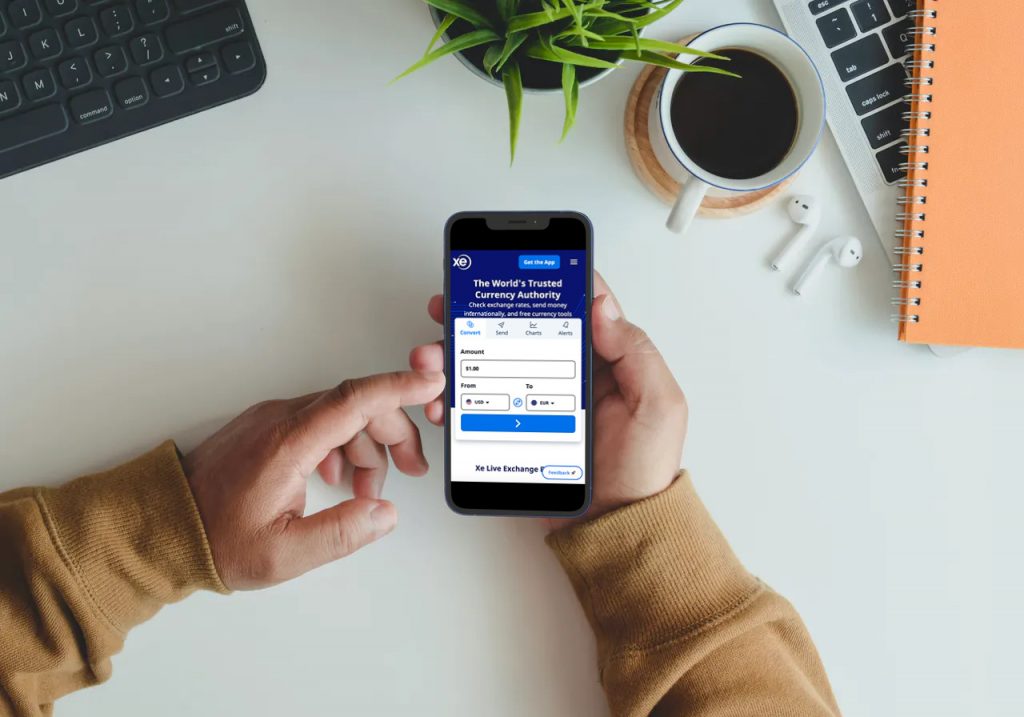 The XE mobile app also has great reviews. The Google Play app has a rating of 3.7/5, based on more than 98,000 reviews. On the Apple Store, the app has a rating of 4.5/5, based on around 4,800 reviews.
XE Money Transfer offers a safe, reliable, and convenient way to send money all around the world. While the payment and delivery options are somewhat limited, the excellent transfer speed and lack of fees make this platform the choice of thousands of users. However, it is not the optimal option when it comes to currency exchange, as there are many similar platforms that work at true-mid market rates.
Before committing to XE Money Transfer, make sure you research what competing platforms offer for the country combination you are interested in. There might be a money transfer service that works better for your specific needs.
What Types of Transactions Does XE Money Transfer Support?
The only payment method available at XE Money Transfer is the bank transfer. You can choose to go with a wire transfer or the Automated Clearing House (ACH) option. As far as delivery options go, you can send the money to the recipient's bank account even if they do not have an account on the platform. Unfortunately, this is the only delivery option available at XE Money Transfer.
How Safe Is XE Money Transfer?
XE Money Transfer is an exceptionally safe and reliable platform. It is authorized by the Financial Conduct Authority under the Payment Services Regulations 2017 and abides by all rules set by this policy. XE Money Transfer is a part of Euronet Worldwide, which is one of the most popular and respected money transfer services in the world. To make a long story short, your money is safe when you use XE Money Transfer.
Do I Need a New Bank Account In Order to Use XE Money Transfer?
Nope — you do not need a brand new account in order to use XE Money Transfer. You can use your current bank account to fund your transfer and send money all around the world.
Does XE Money Transfer Support Credit Cards as a Payment Method?
No, bank transfers are the only way to fund your XE Money Transfer transaction. The reason for this is that credit card issuers tend to charge you when you withdraw money, which means that the costs for your transfer will dramatically increase.
Is XE Money Transfer a Regulated Service?
Yes, XE Money Transfer is fully regulated in the countries where it operates. Below, you can see some of the regulatory bodies that XE Money Transfer operates under.
FinCEN (the United States Financial Crimes Enforcement Network)
FAC (Financial Conduct Authority in the UK)
FINTRAC (The Financial Transactions and Reports Analysis Centre of Canada)
ASIC (Australian Securities and Investments Commission)
Can I Track and Cancel My XE Money Transfer Transactions?
Once your transaction is underway, you will be notified by both email and a text message. To view the status of the transfer, you need to call the XE Money Transfer support team at 877-932-6640. You can also cancel your transfer using the same number.
When Can I Use XE Money Transfer?
The service does not have working hours — it is available to use 24/7/365. However, you need to keep in mind the working hours of the banks you are using for your transfer.
Is XE Money Transfer Better Than TransferWise?
While both XE Money Transfer and TransferWise are reputable and popular money transfer services, we believe the latter to be the better choice. The biggest advantage of TransferWise is that it operates at true mid-market exchange rates — which means there is zero markup on all currency exchange. XE Money Transfer, on the other hand, has a markup above the mid-market rate, making TransferWise the more affordable option of the two.
Can I Use XE Money Transfer to Send Money to Nigeria?
Yes, you can use XE Money Transfer to quickly and reliably send money to Nigeria. The transaction is possible both on the website and the mobile app. Keep in mind that while there are no applicable fees, your transfer will be made at above-market exchange rates.
Our team at Transferly is dedicated to finding the best deals for you to send money abroad. We research, analyze, and review money transfer providers big and small to help you find the best providers for your money transfers. With our real-time money transfer comparison engine we find the fastest and cheapest ways for you to send money online. We provide ratings based on several important criteria to our readers.