Transferly's Official Review of
InstaReM
A comprehensive InstaReM review and breakdown of how to send money with InstaReM online including their Fees and Exchange Rates, Transfer Speed, Quality of Service, and more.


InstaReM Rating Breakdown
Fees & Exchange Rates
100%
Customer Satisfaction
70%
AUD, BDT, CAD, CNY, EUR, GBP, HKD, IDR, INR, KRW, LKR, MXN, MYR, NPR, PHP, PKR, SGD, THB, USD, VND
InstaReM is one of the newer players in the highly competitive money transfer market. Established in 2014, the platform offers fast and secure transfers across the globe and in a variety of different currencies. What makes InstaReM stand out from other similar platforms are the favorable exchange rates and the good loyalty points system. Overall, InstaReM has a lot to offer — however, there are some downsides to using it.
In this review, we will examine InstaReM and all it has to offer. We will take a look at the coverage, fees, exchange rates, customer service, and more. If you are wondering whether or not InstaReM is the money transfer platform for you, read on and see if it is the best possible choice for your particular needs.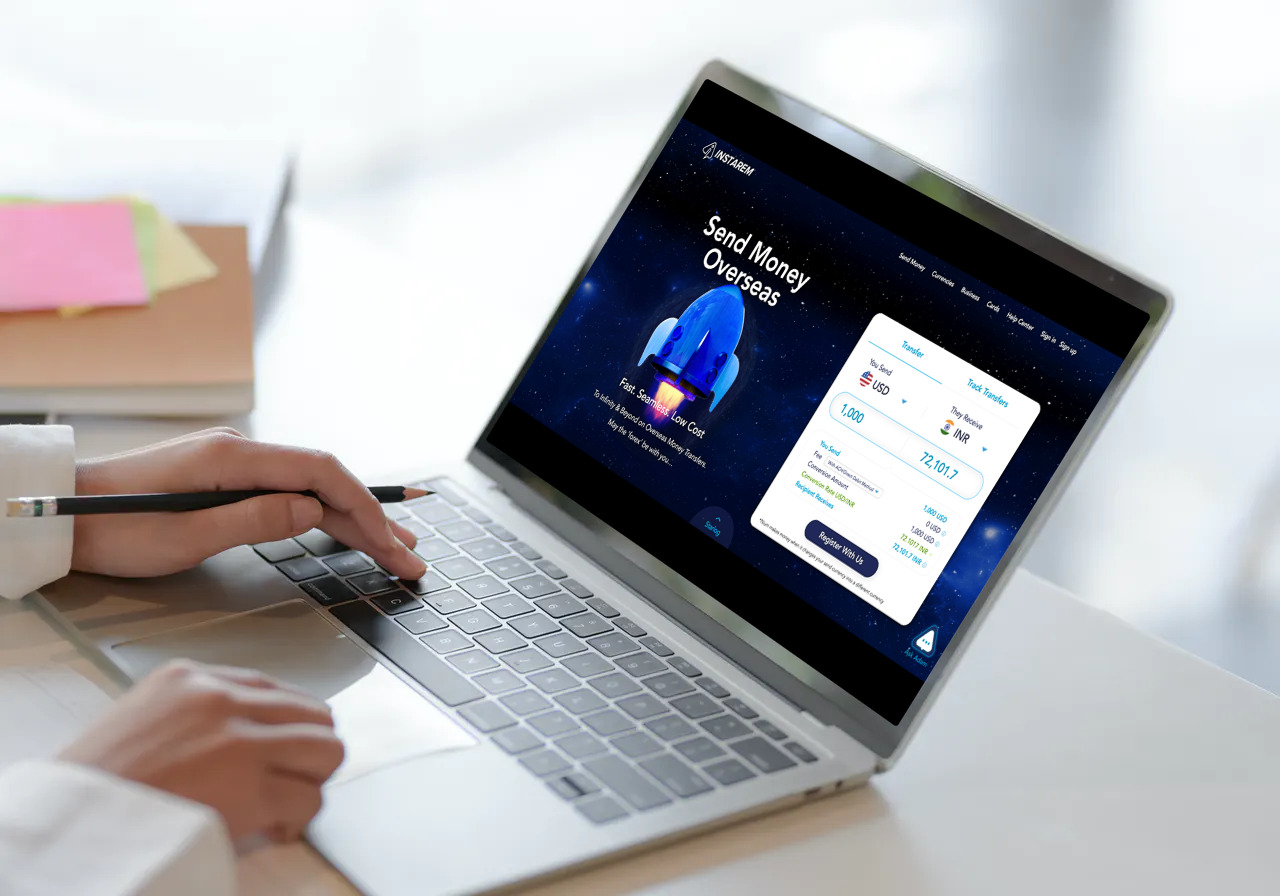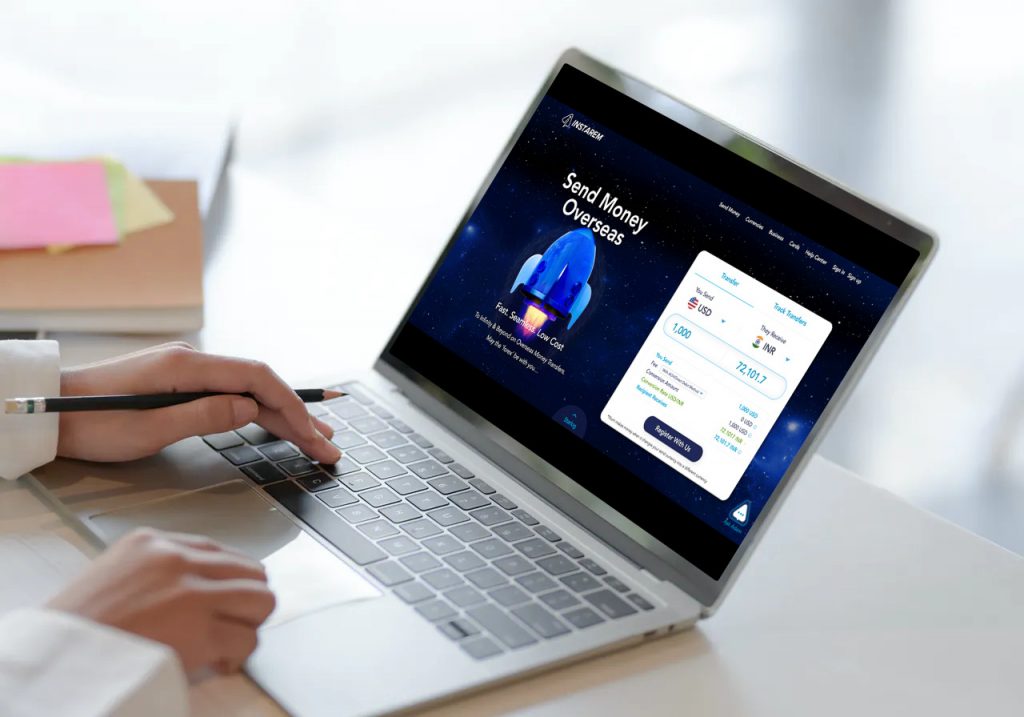 InstaReM is an international money transfer service that allows you to send money to 54 countries around the world. Founded in 2014, the platform supports sending from 8 countries, including the USA. The selection of available currencies is different for each country. InstaReM enjoys a large user base because of its fast, low-cost transfers and great coverage among Asian countries. The platform is fully licensed and regulated and uses advanced security in order to protect its users.
InstaReM allows you to fund your transfer via bank transfer and send money as a direct bank deposit to your recipient. The platform does not support any other payment or delivery methods. However, the exchange rate at which the transactions are made is much more favorable than what you would get with a standard bank transfer. Transfer speed is also better, as most InstaReM transactions take no more than one business day to complete.
Another good feature of InstaReM is its loyalty program. With each executed transaction, you earn loyalty points that you can redeem for currency. You can also get additional points by referring people to the platform. Overall, InstaReM is a good money transfer service that is preferred by many because of its low fees, fast transaction speed, and extremely competitive exchange rates.
InstaReM Fees & Exchange Rates
The transfer charges at InstaReM are based on the mid-market currency exchange rate — that means they vary between different country combinations. Instead of a flat fee, the platform applies a small margin on top of the mid-market rates, thus making a profit. The margin can vary between 0.25% and 0.5%, which is quite competitive, especially when you compare it with what some other similar services charge you. During certain times, the rates at which you can do currency exchange for some countries actually hit the real mid-market ones. However, there is no pattern and you are most likely to be charged for the transaction.
InstaReM's website has a handy calculator that will let you check on the applicable exchange rates for a transaction at any given time. We highly recommend heading over there for a more detailed look at how InstaReM's fees are calculated.
Transfer limits at InstaReM also vary, depending on the country combination you are using for your transaction. In most cases, there are no minimum limits for the currency exchange and relatively high or no maximum limits at all. InstaReM is a platform that is especially effective for both small and large transfers.
When it comes to funding your transfer, the only option available at InstaReM is through a bank transfer. Debit or credit cards are not supported, nor is any other payment method you would expect to see in a money transfer service. You can make use of the following types of bank transfers, depending on your location:
SWIFT bank transfers for international transactions in US dollars
POLi transfers for transactions made in Australian dollars
Standard domestic banks transfer (EFT) in any country where the platform operates
As far as delivery methods go, InstaReM offers direct bank deposits to the account of your recipient. Once the transfer clears, your recipient will be able to withdraw their money via an ATM, use online banking, or even go to the bank and get them there. At this point, InterRem does not support any other delivery methods.
How long does it take for InstaReM to send money abroad?
InstaReM money transfer offers very fast transfer options. A typically InstaReM transfer will only take between 1-2 days.
InstaReM is a fully licensed money transfer service that is authorized to operate in each of the countries it supports. They abide by all industry regulations and keep your money and personal information safe. Each transaction at InstaReM is executed through an encrypted connection, and all money is temporarily kept in a segregated account, not connected with the company's own money.
InstaReM is quite the popular platform among users, scoring a rating of 4.4/5 on the review website Trustpilot. The rating is based on more than 5,122 reviews, with 63% of users labeling the platform as "Excellent." Positive reviews highlight InstaReM's fast transfer speed, secure transactions, and low fees.
You can also find some negative reviews — most of them have to do with the fact that InstaReM requires you to submit identification in order to verify your account. However, by doing this, InstaReM is simply adhering to international regulations and laws. Pretty much all other money transfer platforms will ask you for a government-issued ID in order to verify your account.
Creating your InstaReM account and making your first transfer is a relatively simple and straightforward process. Let's take a look at how you can start using InstaReM and transfer money around the world.
InstaReM is a newcomer to the field of money transfer services that has quite a lot to offer. The platform allows you to execute fast and reliable international money transactions at competitive exchange rates. It also offers a great loyalty points system and a business solution that is designed for small and medium-sized enterprises. Overall, we highly recommend giving InstaReM a try if it supports the countries and currencies you are interested in.
Is InstaReM Safe?
InstaReM is fully licensed and regulated in all countries where it operates. The platform utilizes industry-grade encryption for each transaction and protects your personal and financial data. InstaReM is ISO/IEC 27001 certified, meaning the service follows the strictest guidelines and regulations when it comes to safety and security.
How Do I Send Money Through InstaReM?
To get started, go to the InstaReM website and create your free account. After verifying it by providing the needed personal documents, you will be able to start making transfers right away. The platform is quite simple and straightforward to use and provides you with helpful tips and pointers at every stage. Before asking you to confirm the transfer, InstaReM will show you all applicable fees, the exchange rate for the transaction, and the total amount of money your recipient will get.
What Types of Transfers Does InstaReM Support?
Essentially, InstaReM offers bank-to-bank transfers at much better rates and with only nominal fees. There are no other payment or delivery methods available — if you are looking for a system that supports cash pickups, you better look elsewhere. There are no hedging tools or functionality, so there is no way to execute forward contracts and similar operations. However, InstaReM has a business version that is perfect for managing the finances of small and medium-sized businesses.
How Do I Track My InstaReM Transfer?
InstaReM will inform you of the status of your transfer via email. Additionally, you can log into your account and check how your transaction is processed on the website itself. Overall, tracking your InstaReM transfer is quite convenient and easy to do.
Which Is Better InstaReM vs TransferWise (Wise)?
While both InstaReM and TransferWise (now Wise) are renowned for their low fees and favorable exchange rates, the latter ends up being more affordable overall. Even though the fees at InstaReM are lower, TransferWise operates at true mid-market rates, thus costing you less. Both platforms are excellent, but TransferWise is simply more cost-effective than InstaReM.
Our team at Transferly is dedicated to finding the best deals for you to send money abroad. We research, analyze, and review money transfer providers big and small to help you find the best providers for your money transfers. With our real-time money transfer comparison engine we find the fastest and cheapest ways for you to send money online. We provide ratings based on several important criteria to our readers.