Transferly's Official Review of

Western Union
A comprehensive Western Union review and breakdown of how to send money with Western Union online including their Fees and Exchange Rates, Transfer Speed, Quality of Service, and more.

Western Union Rating Breakdown
Fees & Exchange Rates
60%
Customer Satisfaction
70%
Western Union TransferScore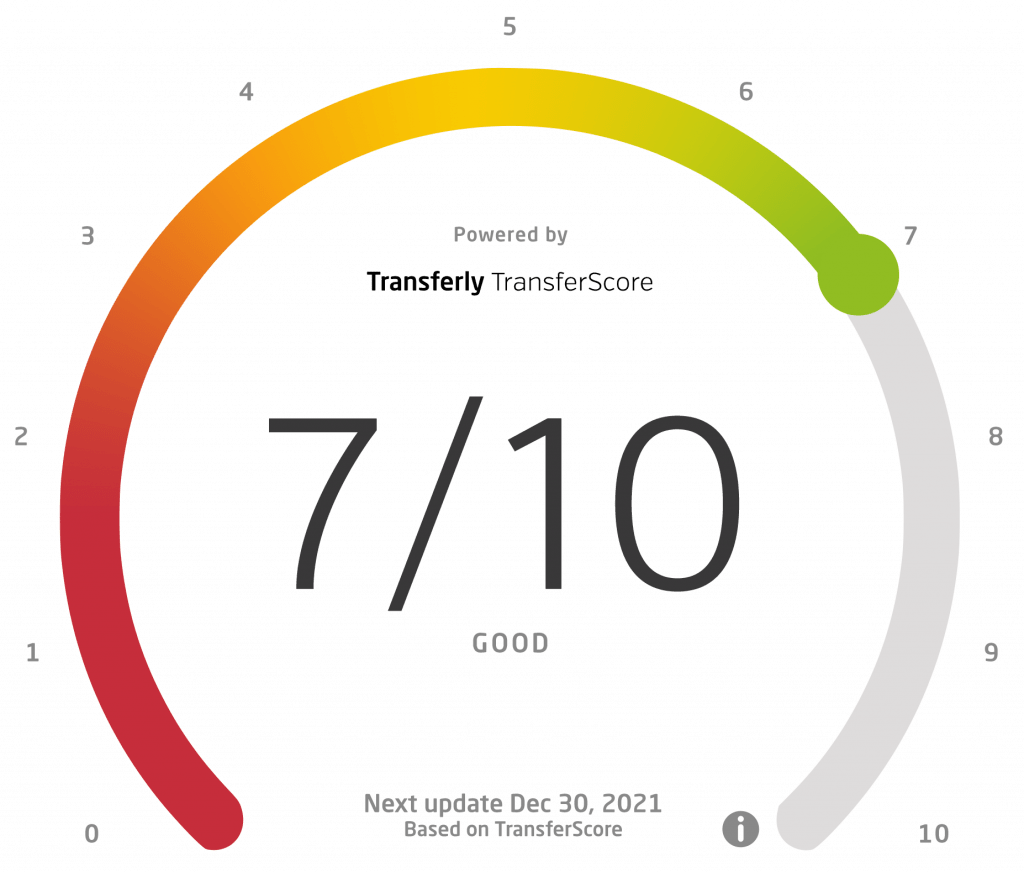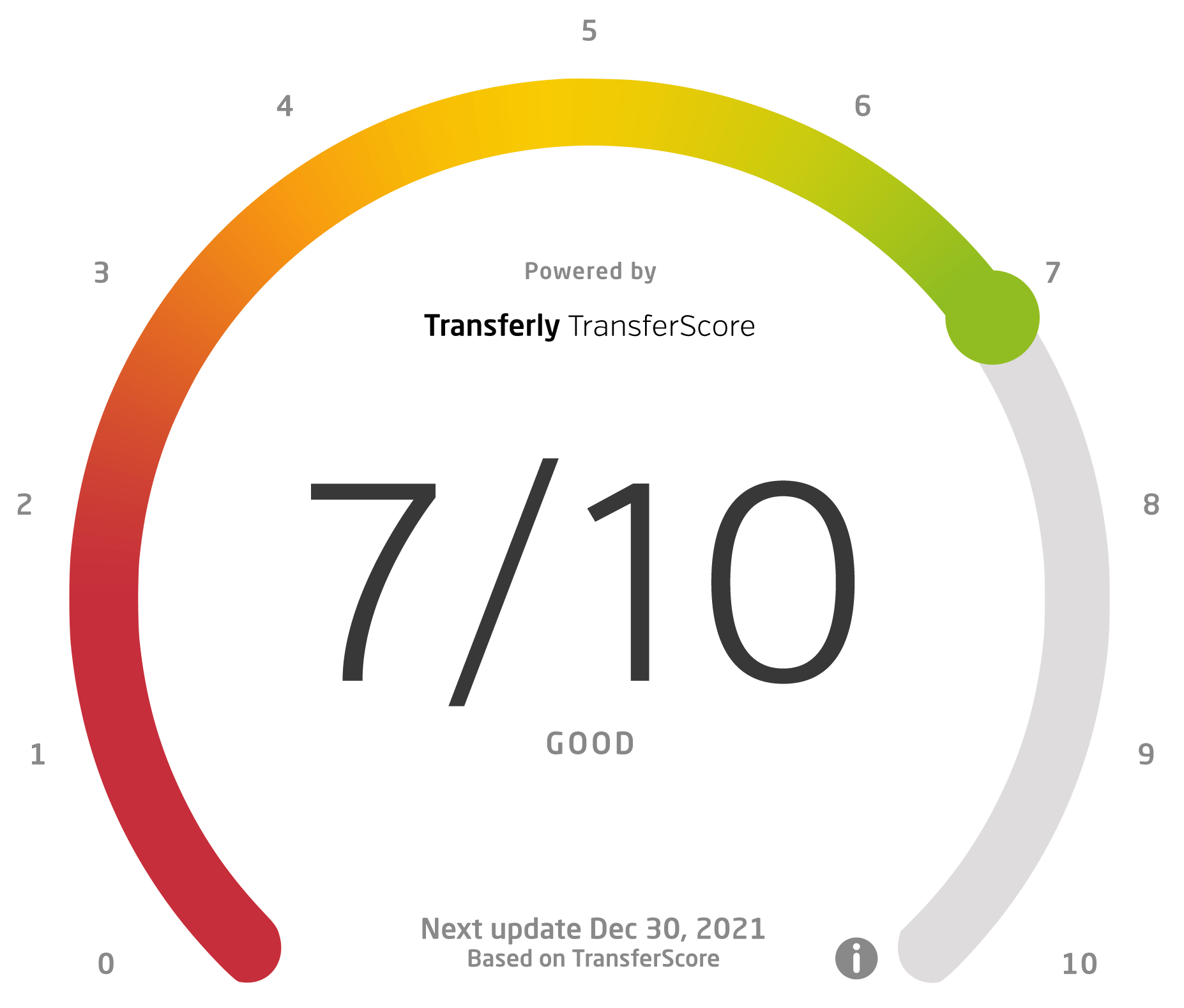 AED, AFN, ALL, AMD, ANG, AOA, ARS, AUD, AWG, AZN, BAM, BBD, BDT, BGN, BHD, BIF, BMD, BND, BOB, BRL, BSD, BTN, BWP, BYN, BZD, CAD, CHF, CLP, CNY, COP, CRC, CZK, DJF, DKK, DOP, DZD, EGP, ERN, ETB, EUR, FJD, GBP, GEL, GHS, GIP, GMD, GNF, GTQ, GYD, HKD, HNL, HRK, HTG, HUF, IDR, ILS, INR, IQD, IRR, ISK, JMD, JOD, JPY, KES, KGS, KHR, KMF, KRW, KWD, KYD, KZT, LAK, LBP, LKR, LRD, LSL, LYD, MAD, MDL, MGA, MKD, MNT, MOP, MRO, MUR, MVR, MWK, MXN, MYR, MZN, NAD, NGN, NIO, NOK, NPR, NZD, OMR, PAB, PEN, PGK, PHP, PKR, PLN, PYG, RON, RSD, RUB, RWF, SAR, SBD, SCR, SDG, SEK, SGD, SLL, SRD, SVC, SZL, THB, TJS, TND, TOP, TRY, TTD, TWD, TZS, UAH, UGX, USD, UYU, UZS, VEF, VND, VUV, WST, XAF, XCD, XOF, XPF, YER, ZAR, ZMW
Western Union is one of the oldest and largest money transfer networks in the world. It allows you to quickly and easily send money across the globe. With more than 500,000 agent locations worldwide, Western Union can help you transfer cash to pretty much anywhere — even if the recipient does not have a bank account. Depending on your needs, you can transfer money fast for a higher fee, or slow for a lower one. However, exchange rates at Western Union are not as favorable as with other similar services.
Given the fact that Western Union has a long history of customer complaints and lawsuits, we advise you to take a look at some of its competitors. There are many similar platforms out there that offer the same service but have lower fees and better exchange rates. However, one of the key advantages of Western Union is the sheer size of its network, especially in the United States. The service has partnered up with many shopping centers and store chains, making it a convenient option for some.
In this review, we will take an in-depth look at Western Union and everything it has to offer. We will cover the services, Western Union fees, and payment methods at the platform, as well as check what customers are saying about it online. By the end, you will know whether or not Western Union is the right money transfer service for your specific needs.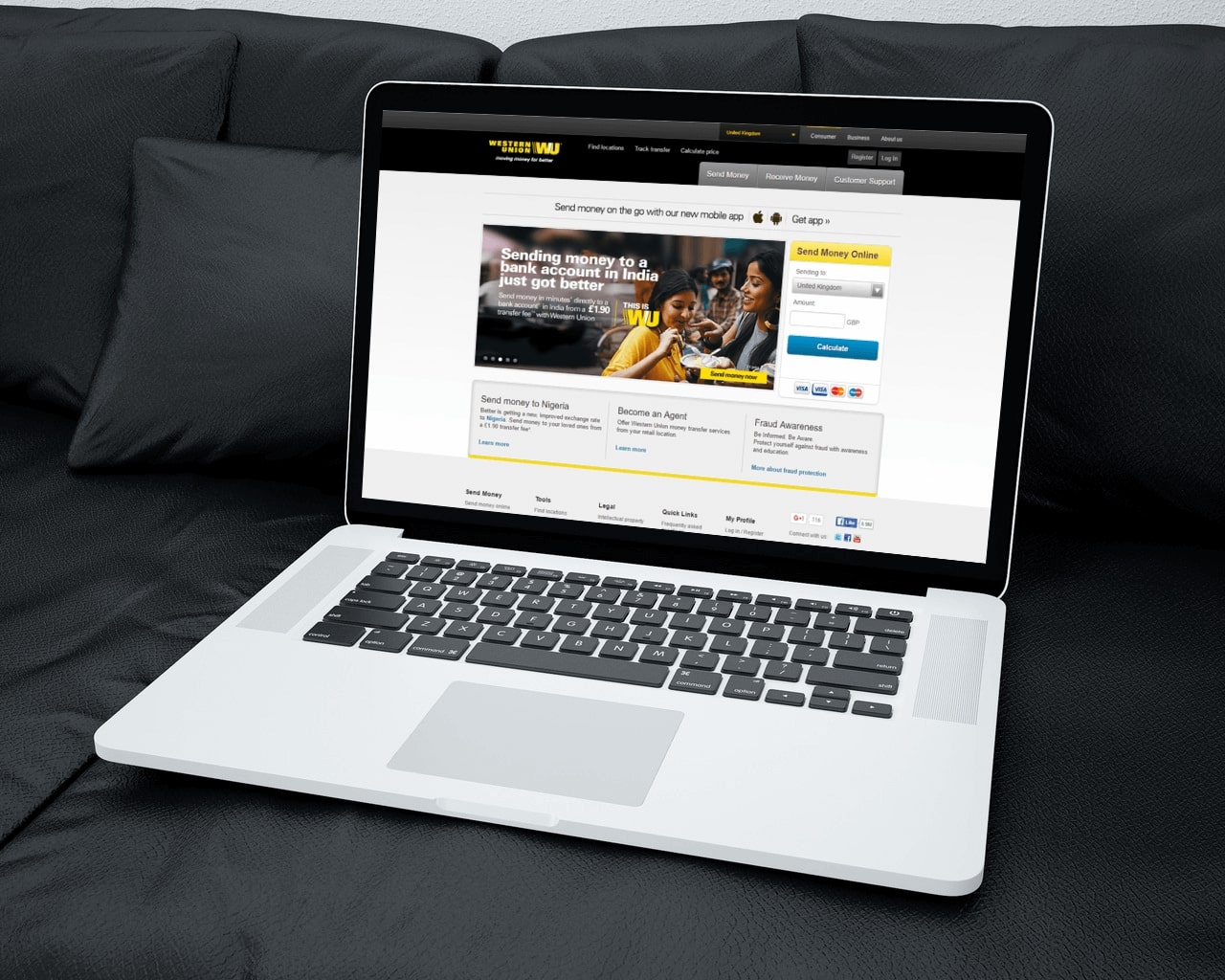 Western Union is one of the oldest and largest money transfer services and is still considered an industry leader. With more than 500,000 agent locations spread across more than 200 countries around the world, Western Union has a truly impressive coverage. The company has gone digital as well, offering services through its website and mobile app. Western Union Online gives you the option to send cash to bank accounts and mobile wallets, in addition to the standard agent locations.
Western Union supports over 125 currencies and a variety of payment and delivery options depending on the country combination in use. Standard payment methods include debit/credit cards and bank transfers. As far as delivery methods go, most countries support cash pickups at agent locations, ATM withdrawals, bank account transfers, and mobile wallets. Transfer speed at Western Union depends on the country combination and the fees you are willing to pay, but is generally quite fast. Most transfers can clear in mere minutes. There are certain limits to how much money you can send per transfer, but those depend on a variety of factors which we will cover later.
Western Union allows people to send money to family members for basic expenses, healthcare, education, or even starting a business. The separate Western Union Business Solutions part of the company provides services for companies worldwide.
Western Union used to be exclusively based on agent locations and cash pickup, but have recently upped their digital offering. The service is focusing on enabling digital services to more and more countries, allowing users to make online transfers through the company's website and mobile app. Western Union Online is fully accessible across the USA, Australia, New Zealand, Canada, and most of Europe. The coverage is now extending to the Middle East, Asia, and Latin America as well.
Western Union's Exchange Rates and Fees
Western Union will charge every transaction with a fee and apply a markup to all currency exchange operations. Those will vary heavily, depending on the following factors:
Country combination
Payment method
Delivery method
Transaction amount
Unfortunately, Western Union is not totally transparent when it comes to the fees and exchange rate markups you get charged with per transaction. In the following paragraphs, we will take a closer look at how Western Union handles those very important issues.
In order to generate additional profit, Western Union applies a markup to the rates at which they do currency exchange. While this is not something uncommon among money transfer services, the markup with Western Union can go as high as 20%. For this reason, it is important to check the exchange rate at which your transaction will be made — otherwise, the recipient can get a lot less than what you initially sent them.
The Western Union exchange rate markup depends not only on the country combination but also on the payment method and delivery option for the transaction. In some cases, exchange rates can be beneficial if you are sending a lot of money. Make sure you always check the rates before making a transaction, as it might be better to bundle a few transactions into a single, larger one.
When it comes to exchange rates, there are many services that offer lower markup, or no markup at all. Use Transferly's comparison tool to see a breakdown of applicable fees and exchange rates between different providers. After all, we recommend choosing the service provider that will cost you the least.
When it comes to agent locations, they all have varying fees that are not generally posted online. However, for online transactions, there is a universal model in play. Here are the different factors that influence the amount of fees you pay for Western Union Online transactions.
Payment Method. Depending on the payment option chosen for a transaction, the fees can differ significantly. For example, paying with a debit card or a bank transfer comes with lower fees than paying with a credit card. In the latter option, you might even get charged by the bank issuing your credit card for the cash advance.
Delivery Method. Sending money straight to a bank account will result in a lower fee. On the other hand, if you have chosen cash pickup at an agent location, expect to be charged more.
Country Combination. Different country combinations have a different amount of applicable fees. Always make sure you check which money transfer service offers the best conditions for the specific country combination you are interested in.
Western Union offers a wide range of payment and delivery options. Each of those comes with different fees, transfer limits, and other limitations, so make sure you research all of them before committing. Below, you will see all available methods for both Western Union agent locations and the online portion of the platform. Keep in mind that some of those are only available for certain country combinations.
Payment Methods:
Bank account
Credit card
Debit card
Wire transfer
Cash
Delivery Methods
Cash
Bank account
Mobile wallet
Prepaid card
By paying a utility bill
Western Union is renowned for its fast and reliable money transfers. However, transfer speed varies based on the payment method and delivery option chosen for the transaction. Faster options tend to be more expensive, while cheaper ones can take a few days to clear.
For example, the fastest way you can go is to pay by debit/credit card and set the delivery method to cash pickup. In this case, the money should be available to the recipient in as little as 10 minutes. However, expect to be charged a higher fee for the service. If you are using a credit card, your bank might even charge you extra for the cash advance.
Funding your transfer via your bank account is the least expensive payment method, but also the slowest. Such transfers typically take up to 5 working days to clear. On top of that, if this is the first time you use a bank transfer as your payment method, you might even have to wait longer while Western Union verifies you own the bank account in question.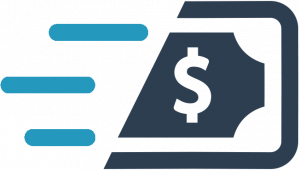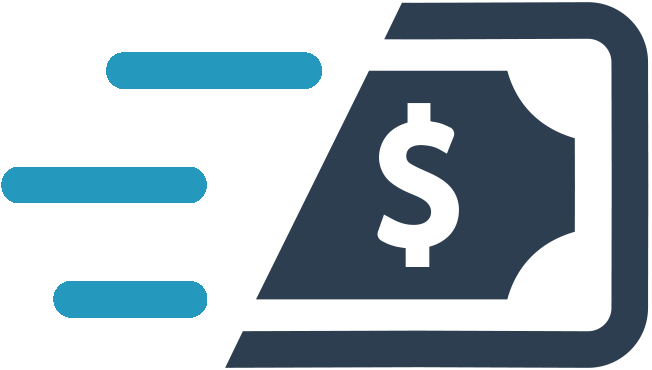 Western Union imposes certain limits on the money you can send per transaction. These vary greatly, depending on the country combination, the type of service you are using, and your overall transaction history. We advise you to always double-check the applicable limits before making a Western Union transaction.
Agent Locations
When sending money through a Western Union agent location, there are usually no transfer limits. However, some countries put limits on the amount of money that can be received through the service. We recommend getting in touch with Western Union's customer service team and check whether the country you are sending to has regulations when it comes to transfer amounts.
Phone Transfers
Depending on the country combination, transfer limits for phone transactions can range from $300 to $2,500. Always double-check the applicable limits before confirming your transfer.
Western Union Online
Transfer limits for online transactions can be seen on the Western Union website or mobile app. Here is a rundown of the limitations for the different services offered by the platform.
Next Day — $500
WU® Pay, Three Day, In Minutes — $2,999
Bill Payments/Quick Collect — $2,500 for a 7-day period
Prepaid Services — Depending on the card issuer
Online FX International Payments — $10,000 with the option of raising the limit
Mobile Money — $500
Despite all the controversy, Western Union is widely regarded as a reputable and safe money transfer service. The company was established in 1851 as a telegram service with headquarters in Denver, Colorado. In 1871 Western Union started offering money transfer services and has been growing ever since. Today, the company supports money tranfers to more than 200 countries and has more than 500,000 agent locations around the world. The brand is associated with safety, speed, and convenience, and currently has over 150 million customers. In 2017 alone, over $300 billion were transferred via Western Union.
Western Union is known for constantly improving its anti-fraud infrastructure and for complying with regulatory and compliance laws. The company invests a lot in data analysis, which helps it remain compliant in all countries it is regulated by. Those include the USA, Ireland, Canada, New Zealand, Brazil, and Australia. When it comes to the company's digital offering, in most countries it is provided by Western Union International Bank GmbH (licensed by Österreichische Finanzmarktaufsicht) and Western Union International Limited.
We can confidently state that Western Union is safe and secure to use for your money transfer needs. It is one of the oldest and most reliable companies in the industry and has earned the trust of hundreds of millions of customers worldwide.
Can You Get Scammed on Western Union?
As we already mentioned, there are scammers who use Western Union's platform to effectively steal money through elaborate plots. After all, we are talking about the largest money transfer platform in the world. It is only natural that there would be people who'd want to use it for their illegal activities. Each user needs to be properly informed about the possible scams and how to recognize and avoid them. To this end, Western Union has a dedicated fraud prevention page that has a lot of useful information. On top of that, the company has implemented anti-fraud and anti-money laundering policies, while also being compliant with international regulatory bodies.
Western Union is one of the most popular money transfer services, enjoying a lot of positive reviews across the Internet. Transferly can definitely recommend Western Union because of its expansive coverage and ease-of-use. The platform has more than 150 million customers, which in itself is proof of the quality of the service. Review website Trustpilot has rated Western Union an 8/10, based on thousands of verified customer reviews.
As far as the Western Union mobile app is concerned, both the iOS and Android versions enjoy good reviews and positive feedback. On the Apple Store, the app has a rating of 4.8/5, based on more than 240,000 reviews. On Google Play, it has a similar rating of 4.5/5, based on around 156,000 reviews. The mobile app offers similar functionality to the Western Union website, but with some added features.
The majority of online reviews about Western Union tend to be positive. On the trusted review website Trustpilot, the service has over 17,000 reviews. We analyzed a portion of Western Union reviews on the website and prepared the following highlights for you.
Advantages According to Users:
Disadvantages According to Users:
Western Union has been around for quite some time now and offers a massive range of services on an unprecedented scale. With such a large user base, it is no wonder that the service receives quite a lot of complaints and negative reviews. On the other hand, the reach and popularity of the platform make it an efficient tool for fraud and scammers.
Western Union Scams
A large portion of complaints against Western Union consists of users being scammed on the platform. Of course, the company itself is not responsible for such issues — all security measures are already implemented, and it is up to the users to recognize and avoid potential scams. Below, you will see the most common schemes that scammers tend to try through the platform.
You buy something from an online seller and they ask you to pay them through Western Union with cash pickup as the delivery option. Once they have picked up their cash from an agent location, they fall off the radar and you do not get the item you have purchased.
Another common scam involves you receiving a check or receipt for an item or a service you are selling. However, the amount on the document is more than needed, so the buyer wants you to refund the extra money via Western Union. Once you do the transaction, you realize the check is not valid — and you cannot reverse the Western Union transfer.
Scammers will often pretend to work for a government agency. They will contact you regarding unpaid taxes and urge you to pay them immediately, in order to avoid legal action. The scammers will recommend sending them the money through a money transfer service like Western Union. Of course, once the transaction clears, you cannot reverse it.
Western Union is aware of those scams and has implemented tools to actively combat them. For example, each transaction needs to be confirmed several times by the user and there are anti-fraud warnings across their website. There are 24/7 customer support teams available worldwide in case fraud is detected. Western Union also started a separate Twitter account that informs users about the latest scams as they emerge.
The Anti-Fraud Lawsuit Against Western Union
A few years ago, Western Union came under a lot of scrutiny by governments and international organizations. Multiple lawsuits against the company alleged that Western Union was effectively "aiding and abetting" fraud by not implementing effective anti-money laundering policies. Even though the company fought the lawsuits in court, it eventually settled in January 2017. As part of the agreement, Western Union had to give up around $550 million. Additionally, the company was forced to enter into anti-fraud agreements with state and federal agencies. As a result, Western Union committed to:
Expand Western Union customer service to accommodate fraud claims
Suspend any transactions where the recipient was accused of fraud until the situation is resolved
Implement clear fraud warnings across all company properties
Offer full refunds if fraud is proven
If you suspect you are the target of money transfer fraud in the USA, you need to report it to the FTC or the Attorney General of your state.
So, how does Western Union work? In order to send money through Western Union, you will need to have the following:
A Western Union Account. Naturally, you will need one to use the platform. You can set up your Western Union account for free and in just several minutes.
Verified Payment Method. Supported options include debit/credit cards, bank transfers, and cash at agent locations.
Details for the Recipient. Depending on the delivery method you have chosen, you might need to provide different details for the recipient. For example, if you are sending to their bank account, you need to present their account number and bank name.
If you have chosen a cash pickup as a delivery method, make sure you tell the recipient to bring a valid ID to the Western Union agent locations. Otherwise, they will not be able to get their money.
When it comes to creating your Western Union account, there are several ways to do it. Perhaps the most convenient one is to make a registration online — it is free and can be done in minutes. Alternatively, you can just visit one of the many Western Union locations and provide the needed information in person. Finally, you can create a Western Union account by phone.
Here is a step-by-step guide to making your first Western Union money transfer through the online platform.
All Western Union users are free to sign up to My WU — the service's rewards and loyalty program. It allows you to collect points that you can exchange for service discounts. Here is how you can use the My WU rewards program:
Create a free My WU account after signing up with Western Union. All you need to input are your email and phone number.
Collect points by completing money transfers with Western Union. For each dollar that you pay in fees, you get one My WU point.
Spend your My WU points for discounts on service fees. Different promotions are available throughout the year and you can redeem points either online or at an agent location. The former gives you a better deal — for example, you can exchange 25 points for a $2.00 discount at an agent location, or a $2.50 discount online.
We advise you to not be quick to spend your My WU points, but rather let them accumulate for a bit. If you gather a lot of points, you will get quite big discounts. For example, redeeming 140 points will grant you a $15.00 online discount, or a $12.00 at an agent location
The Western Union app is available for both iOS and Android devices on the respective stores. It has all the functionality of the Western Union website, along with some extra features. Overall, the app enjoys good reviews from users worldwide. Here are some of the standout features of the Western Union mobile app.
Western Union is one of the largest money transfer providers in the world for a reason. It offers fast and safe transactions in over 200 countries worldwide, which makes it perfect for sending money internationally. However, there are some downsides to using it, mainly the unfavorable exchange rates. In order to determine the best money transfer service for your needs, we recommend exploring all other options before committing.
Can I Avoid Paying Fees at Western Union?
No, there is no way to completely avoid paying fees when transferring money with Western Union. What you can do, however, is minimize them as much as possible. We have prepared a quick guide to paying the lowest fees possible — check it out below.
Before committing to a transfer service, compare what option will be best for you using Transferly's comparison tool.
Check the applicable fees for your transfer with Western Union's Price Estimator. Do not forget to apply the exchange rate markup for the transaction, as it will probably increase the fee quite a bit. In order to find the best deal for your specific needs, make sure you use comparison websites like Transferly.
See if you can make use of any discount coupons available to you. Those can be a part of a seasonal promotion, My WU rewards, or promo codes found on partner websites.
The delivery method chosen for the transaction has a significant effect on the fees. For example, choosing a cash pickup will always result in higher fees than bank transfer.
When it comes to payment methods, avoid credit cards if possible. In addition to the high fee that Western Union charges you, you will also have to pay the bank issuing the card for the cash advance.
Some Western Union partners (like Walmart, for example) will offer lower fees. Use them to execute your transaction, if possible.
It is essential to double-check any information you submit before you confirm the transfer. If there are any mistakes, you might have to re-submit the order, resulting in you paying the fee again.
Once you have confirmed the transfer, do not go back and make changes. Any edits will result in additional fees.
Which Is Better — Western Union Agent Locations or Western Union Online?
According to Transferly, using Western Union Online will always come cheaper than going through an agent location. If paying low fees is your priority when it comes to choosing a money transfer service, you can compare all alternatives to Western Union here.
Is Western Union Safe to Send Money?
Western Union has implemented all necessary security measures to ensure the safety of each and every transaction. The platform is compliant with federal laws and international regulations. You can cancel any Western Union transfer within 30 minutes of confirming it, provided that it hasn't been picked up by the recipient.
Is Using Western Union Cheaper than Making a Bank Transfer?
Fees at Western Union vary greatly, depending on the amount you are sending, the country combination, and the payment/delivery method. For example, sending up to $50 for a cash pickup in the USA will typically cost you $5.99. However, sending $1,000 for a cash pickup will result in a fee of $100. Choosing a bank account as a delivery method is cheaper — the fee for sending up to $50 is $5, and for $1,000 — around $45.
Can I Track My Western Union Transfer?
Western Union provides several options for tracking the status of your transaction. You can do it online, by telephone, or through an agent. For all of those options, you will need to provide your 10-digit MTCN (Money Transfer Control Number). If you do not have access to it, you can still check the status of your transfer by submitting the following information:
Country of the recipient
Amount sent
Date of the transaction
Your full name or phone number
However, we advise you to keep your MTCN handy if you want to track your transfer in the most convenient way.
What Is a Money Transfer Control Number (MTCN)?
The MTCN is a 10-digit tracking number that is unique for each and every transaction. You can find it on the receipt for the transfer or in your transaction history online. You will need this for tracking the status of your order. Additionally, the recipient will need it if they want to pick up their money at an agent location.
Where Can I Cash a Western Union Money Order?
You can cash a Western Union money order at a variety of places. These include banks, check-cashing stores, grocery stores, or other locations that support such services. Keep in mind that you need to bring a valid ID in order to cash your Western Union money order.
Where Can I Pick Up Cash Sent Through Western Union?
Western Union has perhaps the largest network of agent locations in the business, with more than 500,000 locations worldwide. Those include banks, cashiers, and licensed agents. You can easily find the nearest agent location by using the handy Western Union agent locator.
Once you input the needed information, you will be presented with a map that has all nearby agent locations. If you click on a location, you will be able to see the working hours and services provided. On top of that, you will see what the transfer limits are for the given location. Always make sure to check that, as some agent locations are more restrictive than others.
What Are Western Union Digital Locations?
Digital Locations are Western Union's attempt to introduce the concept of agent locations to the online part of their offering. Users can expect the same levels of customer service and perks you get at an agent location, only in a digital environment. Digital Locations offer multilingual support and video chat with a trained Western Union representative.
The service is available only in select countries, including Austria, Belgium, Italy, Portugal, and Oman. Western Union plans to expand the service to more countries in the future. If you reside in one of the supported countries, all you need to do to access a Digital Location is to open the website and find the corresponding link.
What Is the Transfer Speed at Western Union?
Transfer speed at Western Union depends on a variety of factors, including the country combination, payment method, and delivery option for the transaction. Different transfers might clear in a few minutes or in up to several business days. You can expect faster transfer methods to have higher fees. Here is a rundown of the standard delivery times for the different Western Union services:
Transfer to a bank account — from 2 to 5 business days
Money in Minutes (cash pickup) — a few minutes
Next Day (cash pickup) — money can be picked up on the next business day
Transfer to a mobile wallet — delivery time depends on a variety of factors, including the wallet itself, country combination, and amount sent
How Do I Fill Out a Western Union Money Order?
In order to send money through a Western Union agent location, you will have to submit a pro-forma money order. Even though most modern locations no longer make use of paper orders, there are still some where you have to manually input your information. If this is the case, make sure you write in clear, large letters. Here is a quick guide on how to do that:
First, write down the name of the recipient and the applicable details for the transfer.
Fill out your full name, phone number, email, and physical address.
Choose the country you are sending to and the currency you will be sending in.
For additional security, sometimes you will be asked to provide a secret question and an answer. The recipient will have to provide the correct answer in order to collect their money. This procedure is required only in certain countries.
Once you are ready with all that, sign the money order on the front and submit it.
You will receive a receipt that will contain the MTCN number for the transfer. You can use it to track your transaction online, by phone, or at an agent location.
How Can I Receive Money With Western Union?
Western Union supports a variety of delivery methods, depending on the location of the recipient. Options include cash pickups, bank deposits, prepaid card top-ups, mobile wallet transfers, and even utility bill payments. Check the Western Union website for more information on how you can receive money in your country.
How Long Can Money Stay in Western Union Before Pick Up?
Western Union keeps money available for pickup for 45 days after the transaction clears. Keep in mind that Western Union will not automatically transfer the money back to the sender if no one picks it up after those 45 days expire. You need to contact the service and ask them to send you your money back.
Does Western Union Send Money the Same Day?
Yes, you can make same-day transactions through Western Union if you choose one of the faster money transfer options supported by the platform. For example, "Money in Minutes" allows you to send money to an agent location almost instantly. If you frequently send money to the same bank account, those transfers will also clear on the same day.
Does Western Union Send Money Instantly?
Western Union supports several types of money transfers, including the "Money in Minutes" service. It allows you to almost instantly send money to an agent location, ready to be picked up by the recipient. The transaction takes a couple of minutes to clear, depending on the country and currency combination.
How Long Does Western Union Hold Your Money?
Any money sent through Western Union will remain in the system for 45 days. If the order is not picked up during that time period, Western Union will not transfer the money back to the sender, unless they ask them to. Make sure your recipient picks up the money as soon as possible.
Does Western Union Work Similarly to a Wire Transfer?
While Western Union allows users to send money from one bank to another, the process is quite different from a wire transfer. The platform does not operate on a SWIFT principle, as the money is not directly transferred from one bank to the other.
Can I Use Western Union at Kroger?
Kroger is an official partner of Western Union and you can execute money transfers, pay bills, and cash checks at one of the nearly 2000 Kroger locations in the USA. Of course, you can alternatively make money transfers online. If you want to locate the nearest Kroger store, you can use this helpful tool. For more information on the topic, make sure to visit the official Kroger Money Services website.
Can I Use Western Union at Cebuana?
Cebuana Lhuillier is a micro-financial service provider for cross-border fund transfers based in the Philippines. It is also an official partner of Western Union, allowing Cebuana customers to use the extensive network and services provided by the US company. There are more than 2,500 Cebuana locations that are now considered a part of Western Union's worldwide coverage.
Can I Use Western Union at Walmart?
This question is a bit more complex than one would expect. In the USA, Walmart does not have a partnership with Western Union. However, you can still transfer money at Walmart using Walmart2Walmart (powered by the money transfer service Ria) or Walmart2World (powered by Moneygram).
In Mexico, on the other hand, you can use Western Union's services at Walmart stores. You can send money to more than 1,260 stores from the Walmart chain, including Bodega Aurrera, Mi Bodega Aurrera, Suburbia, and Superama. The chain has stores in all of Mexico's 31 states, including Mexico City.
People in Canada can also make use of Western Union services in Walmart stores. Supported services include transfers, pick-ups, and paying bills. There are more than 330 locations in Canada that offer Western Union services.
Can I Do Foreign Exchange (Forex) with Western Union?
Forex trading is available only for users of Western Union Business Solutions.
Western Union TransferScore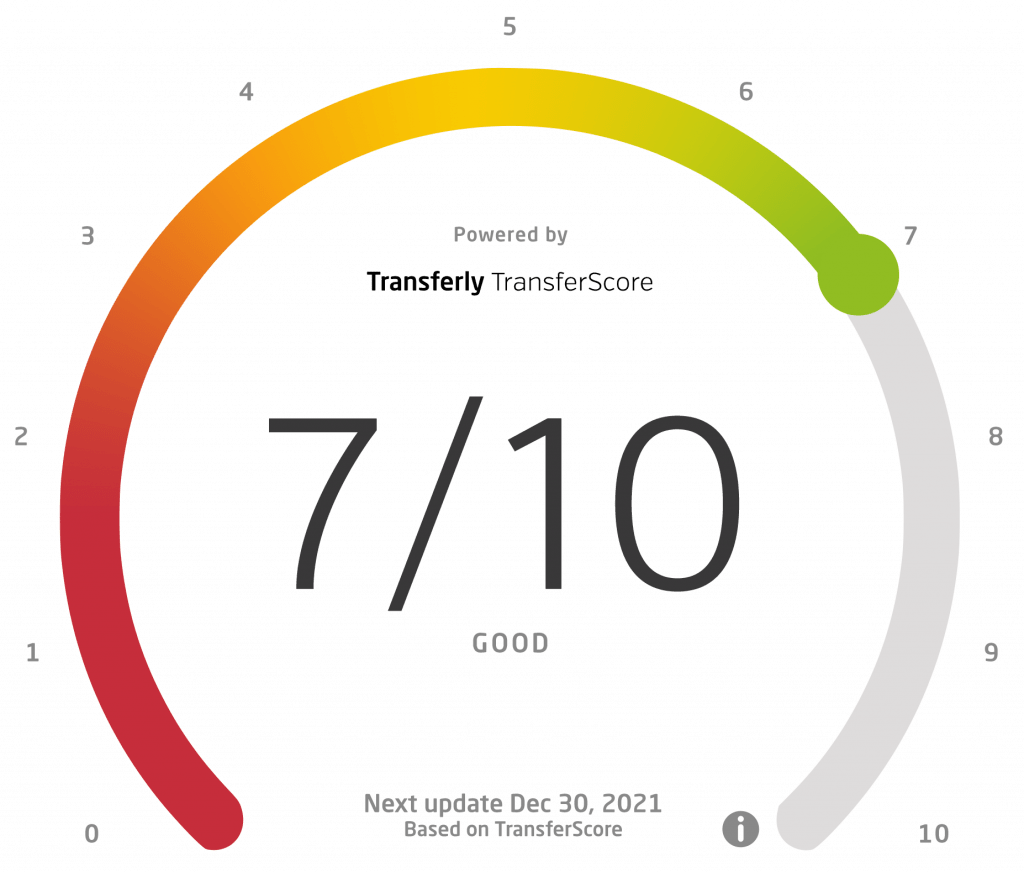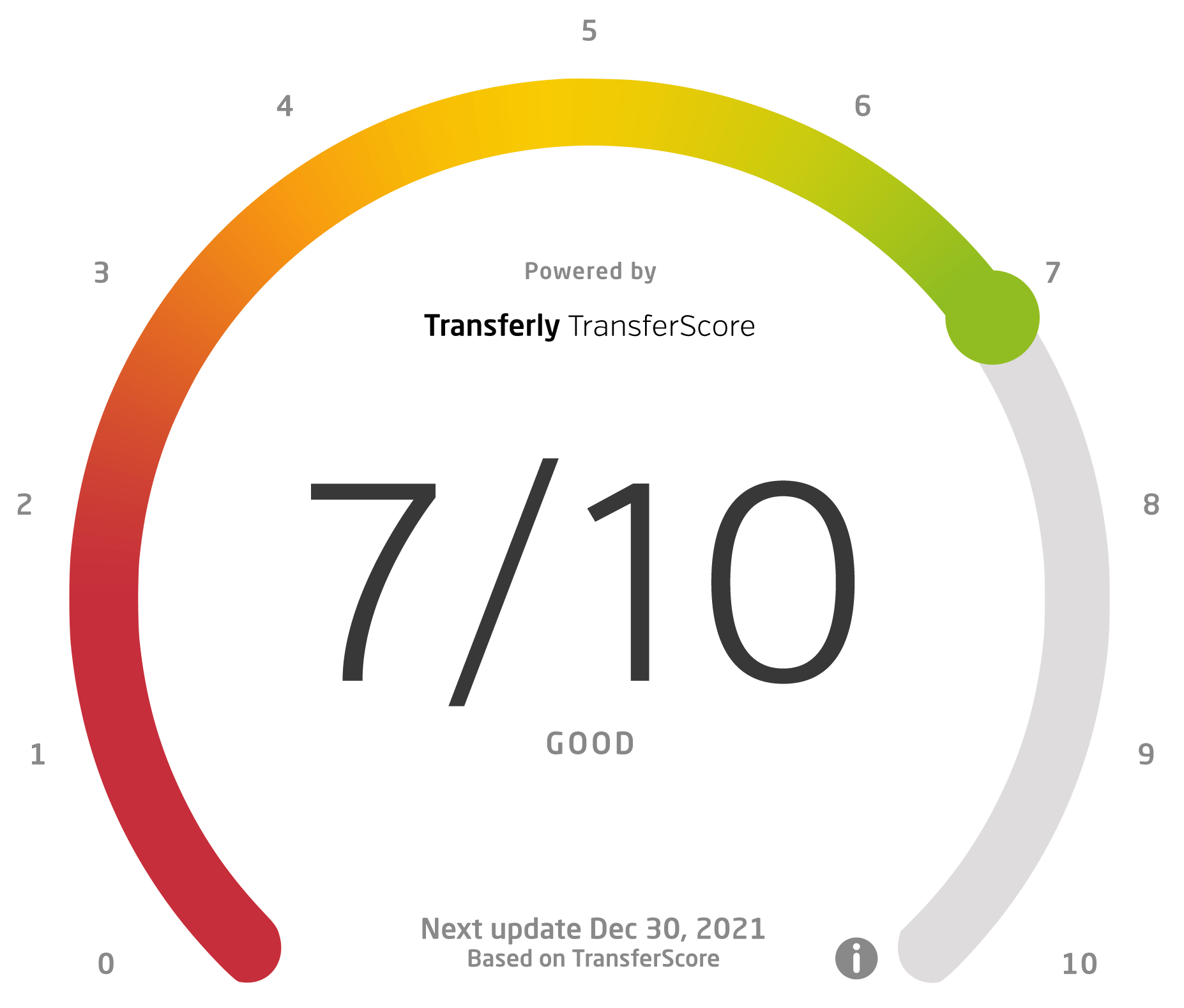 Our team at Transferly is dedicated to finding the best deals for you to send money abroad. We research, analyze, and review money transfer providers big and small to help you find the best providers for your money transfers. With our real-time money transfer comparison engine we find the fastest and cheapest ways for you to send money online. We provide ratings based on several important criteria to our readers.