Transferly's Official Review of
WorldRemit
An in-depth review and breakdown of how to send money with WorldRemit online as well as rating their Fees and Exchange Rates, Transfer Speed, Quality of Service, and more.


WorldRemit Rating Breakdown
Fees & Exchange Rates
100%
Customer Satisfaction
95%
AED, ALL, AMD, AOA, ARS, AUD, BAM, BBD, BDT, BGN, BHD, BIF, BOB, BRL, BWP, BYN, CAD, CDF, CHF, CLP, CNY, COP, CRC, CVE, CZK, DKK, DOP, EGP, ETB, EUR, FJD, GBP, GEL, GHS, GMD, GNF, GTQ, HKD, HNL, HRK, HTG, HUF, IDR, ILS, INR, ISK, JMD, JOD, KES, KGS, KHR, KMF, KRW, KWD, KYD, KZT, LAK, LKR, LRD, LSL, MAD, MDL, MGA, MRO, MUR, MVR, MWK, MXN, MYR, MZN, NAD, NGN, NIO, NOK, NPR, NZD, OMR, PAB, PEN, PHP, PKR, PLN, PYG, RON, RUB, RWF, SCR, SEK, SGD, SLL, SOS, SRD, THB, TJS, TND, TOP, TRY, TZS, UGX, USD, UYU, VND, WST, XAF, XCD, XOF, ZAR, ZMW
WorldRemit is an online money transfer service that is excellent for sending money abroad. It allows users to send cash to over 150 countries worldwide while keeping track of their transactions every step of the way. We found that WorldRemit is especially effective if you want to send money for cash pickup or to a mobile wallet. However, if you want to send large sums of money, other services might be a better option.
We took the time to test out everything WorldRemit has to offer and compare it to plenty of other similar services on the market. In this article, we will outline the main features, pros, and cons of using WorldRemit. Let's begin with a general overview of what the service has in store for users.
WorldRemit has an excellent network of supported countries, even though some of its competitors go a step further. However, the transaction fees and exchange rates at WorldRemit are among the best ones we have ever seen. On top of that, the service shows you the respective fees or rates up front, even if you have not registered an account. Allowing users to do that makes it quite easy to compare WorldRemit to the plethora of other money transfer services out there.
Of course, there are some downsides to using WorldRemit. For example, the platform does not support paying in cash, unlike some of its competitors. However, it does feature cash as a delivery option in a surprising amount of countries worldwide. Another thing that makes WorldRemit stand out is its variety of delivery methods, like mobile airtime top-ups, door-to-door cash delivery, and bill pay. We need to point out that some of those are only available in select countries.
New users can take advantage of various promo codes that can be used to get even lower fees and better exchange rates for a limited number of transactions. Such incentives can rarely be seen with other money transfer services.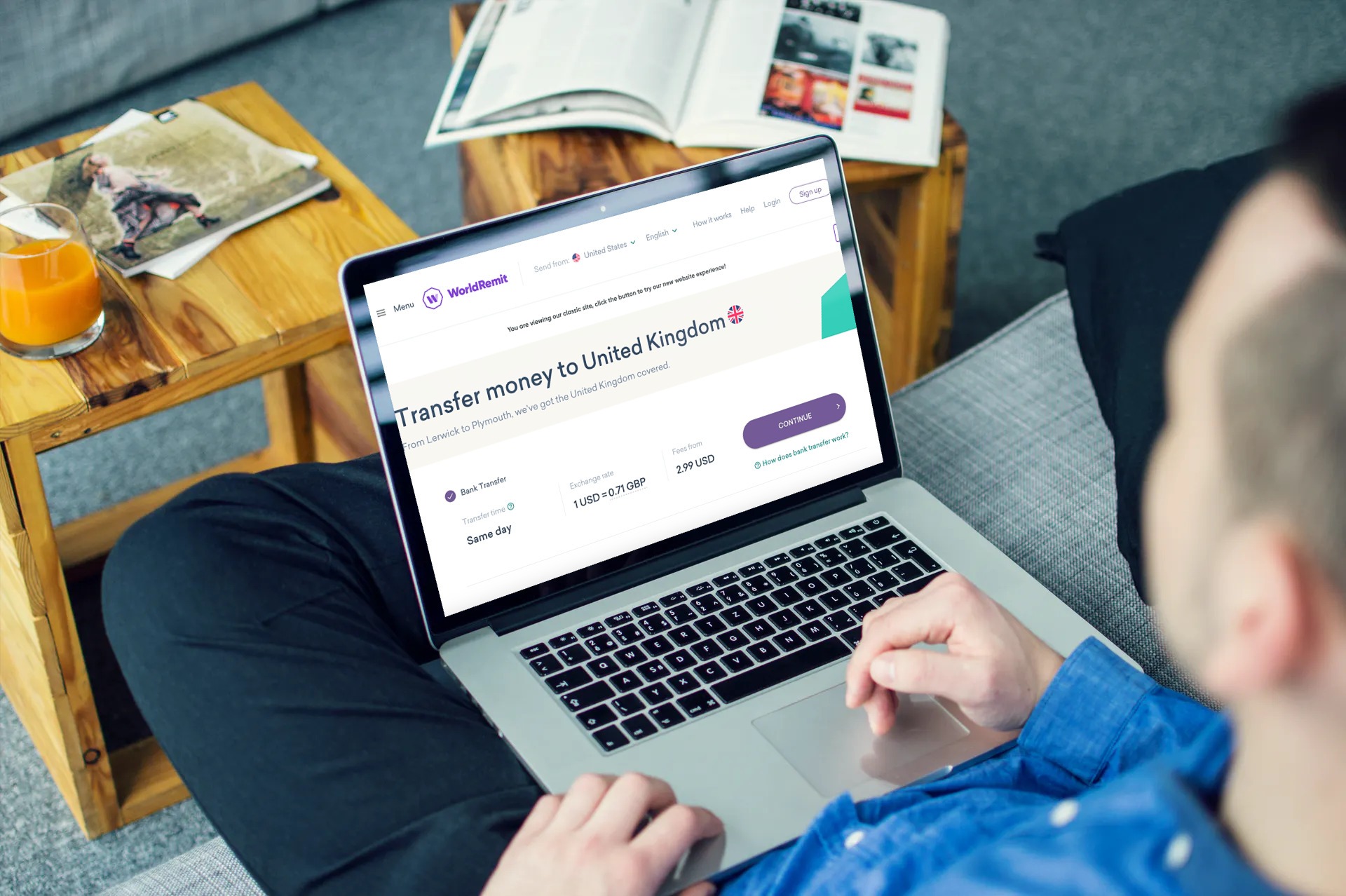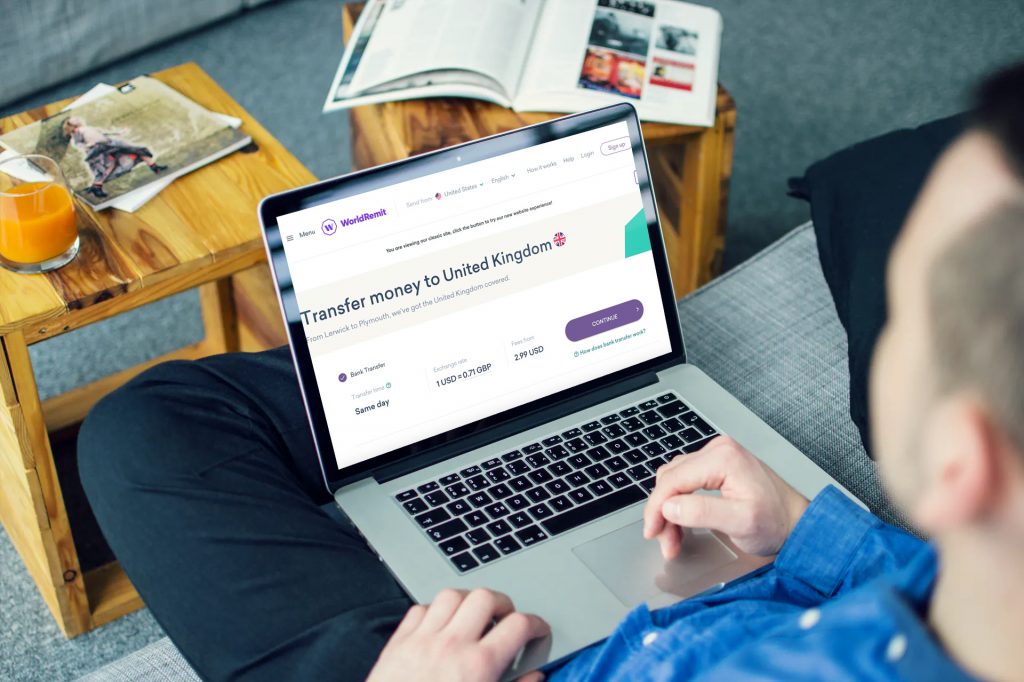 WorldRemit is a popular money transfer service that allows you to send money to people from all around the world. The platform currently has more than 4 million active users and enjoys overwhelmingly positive reviews on websites like TrustPilot. People like WorldRemit for its convenient, easy-to-use interface, as well as its low taxes and fair exchange rates.
The fact that WorldRemit is so affordable to use makes it a clear favorite for many users worldwide. The platform is available both via desktop and as a mobile app, allowing you to send money at any given time. Since the majority of transactions are done entirely online, transfer speed is generally excellent and fees are kept to a minimum.
WorldRemit is especially popular with US or UK residents who want to send money to Nigeria, because of the extremely low rates and near-market-level exchange rates. The same goes for transfers from the US to Mexico, especially if they are executed as bank transfers or cash pickups. Other particularly profitable country combinations include US/UK – Colombia, US/UK – Chile, and US/UK – Pakistan. WorldRemit supports cash pickups at major banks around the world. For example, it covers all 645 branches of Bank Al Habib.
WorldRemit Fees & Exchange Rates
Transfer fees and exchange rates at WorldRemit vary, depending on several factors. Here are the criteria that determine what your costs will be for executing a WorldRemit transfer.
Amount of money — The fee for most countries will be $3.99 per transaction. However, some countries will have fees that scale with the amount of money

you

are sending.
Country combination — Fees will be different depending on the country

you

are sending from and the country

you

are sending to. Even if both have the same currency,

you

can end up with a higher fee since the exchange rate may vary between locations.
Delivery method — Fees at WorldRemit also vary depending on your delivery method of choice. For example, sending to a bank account will generally have lower fees, while choosing a cash pickup will result in higher costs.
Fortunately, WorldRemit does not have any other fees apart from the ones we covered above. However, if you use a credit card as your payment method, your bank will charge you an extra fee for the service. Also, if you are using the airtime top-up delivery method, you should know that certain countries apply taxes which reduce the airtime received by your recipient. WorldRemit will warn you if one of those two situations will play out, so you can avoid any unwanted fees.
The WorldRemit exchange rates you receive for a transaction through this platform depend on your chosen delivery method. WorldRemit locks the rate you have chosen, so you know exactly the amount of money the recipient will get. We need to point out that, unlike many other money transfer services, exchange rates at WorldRemit remain the same no matter how much money you send.
When it comes to WorldRemit money transfer services, transaction speed is one of the main factors you should consider. WorldRemit does not disappoint in this category, as its speed is up to all industry standards. Of course, it all depends on the delivery method for the specific transaction.
Cash pickups clear instantly, while airtime top-ups and mobile money take mere minutes.
Bank transfers can be a bit slower — from several minutes to up to five business days.
Home delivery is the slowest option which can take from one to seven business days to complete.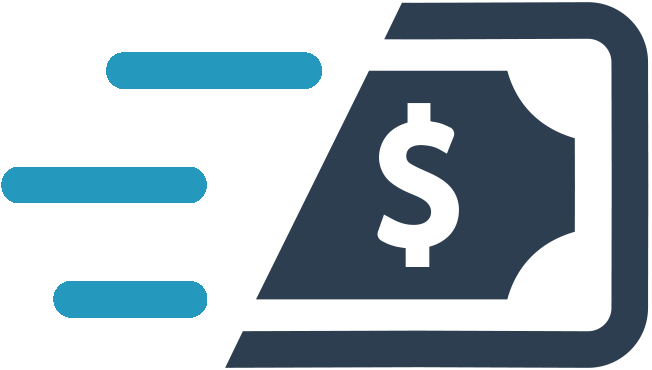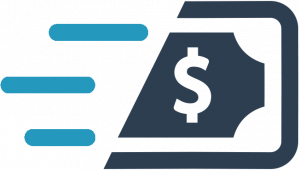 WorldRemit currently supports sending money from a total of 56 countries across the world. The service allows users to send cash in 90 currencies to a whopping 150 countries. As far as delivery options go, it all depends on the country combination you choose. The standard options include bank accounts, cash pickup at agent locations, and door-to-door delivery. However, over 30% of all transactions made through WorldRemit end up in a mobile wallet. The company claims it is the leading provider of mobile payment in the world, and you have no grounds to dispute that. Another popular delivery option is the airtime top-up — it is especially useful for migrants who send money to their families back home.
Payment methods at WorldRemit also depend on the country combination you have selected. Overall, the supported payment options include:
Bank transfers

Credit and debit cards

Apple Pay

Android Pay

Trustly

SOFORT

Interac

ACH

Poli
We must point out that WorldRemit has great choices when it comes to payment methods. Such variety can certainly be appreciated by users who are picky when it comes to that aspect of a money transfer service.
WorldRemit is a service authorized and regulated by multiple government agencies around the world. As such, it adheres to all standards and practices when it comes to security. On top of that, there is the added protection from the payment channels the platform utilizes. Depending on the country combination, your transfers can be secured by MasterCard, Visa, ApplePay, and more. WorldRemit money transfer service is licensed to operate in many countries, including the USA, Canada, Australia, and the United Kingdom.
WorldRemit uses machine learning and AI to monitor each and every transaction for irregularities. Any suspicious activity is then forwarded to a security professional who takes a closer look. In case you run into any issues while using the service, you can contact customer support via phone, email, and live chat. We were happy to find out that support teams are available 24/7.
WorldRemit enjoys plenty of positive reviews online. The platform has an excellent rating on the review website TrustPilot, where it has more than 44,000 reviews as of now. The majority of users are satisfied with what WorldRemit has to offer, including fast transfer speed, low fees, and great coverage. However, some users complain about delayed refunds, or even ones that did not arrive at all. On top of that, there are plenty of reviews that mention inadequate customer service.
Also, we found users who pointed out that making transfers from smaller banks can be a bit problematic, as the banks will often refuse to clear the transaction the first time around. We were pleased to see that WorldRemit takes negative reviews seriously, as the company's support team takes the time to respond to pretty much every single one and try to solve the issue.
Advantages According to Users:
WorldRemit has many features that are not typically available on other money transfer platforms. Even though some have them, they are under different names, so a typical user will not be able to make the connection initially. Below, we will explain the three rather unique features users at WorldRemit can make use of.
WorldRemit offers a variety of ways to send money, but what is available to you depends on the country you reside in. Let's have a brief rundown of all supported methods for sending cash via this platform.
Bank transfer — With this method, you can send money directly to the recipient's bank account. Once the transfer clears, the recipient can withdraw them or use them in any way they want.
Mobile money — This allows you to deposit cash directly into the mobile wallet of a recipient. Popular mobile wallets include Tigo, Vodafone M-PESA, Airtel, MTN Mobile Money, and Globe Cash.
Cash pickup — You can also send money to one of the supported WorldRemit agent locations around the world. The recipient can then go and pick them up as cash.
Airtime top-up — The final way you can pay through WorldRemit is to directly top-up the mobile airtime of someone. This will allow them to make calls and send messages with the money you have sent them.
Here are the exact steps a user has to take in order to complete their first money transfer with WorldRemit.
Depending on where you are and where you want to send money to, WorldRemit offers a variety of available payment methods. For example, if you are making a transfer from the USA, you have the following options:
Debit and credit cards
Prepaid cards
Bank wire transfers
ACH transfer
ApplePay
When it comes to other countries around the world, WorldRemit also supports the following payment methods:
In order to start using WorldRemit, you need to input and verify some personal information. This is nothing unexpected since the money transfer industry takes security quite seriously. Here is a list of everything needed to send money through WorldRemit:
Once again, the ways you can receive money sent by WorldRemit depends on the location you are currently at. Below, you will outline all methods for receiving money supported by WorldRemit.
Customer support at WorldRemit is available via live chat, email, or phone. One of the best things about WorldRemit is that customer service reps are available 24/7! Below, is a list of phone numbers users can use to seek assistance from WorldRemit's staff.
If you want to use WorldRemit on the go, you can do so via the proprietary mobile app. It is available for iOS and Android and offers pretty much the same functionality as the desktop version of the platform. Here are some of the standout features of the WorldRemit mobile app.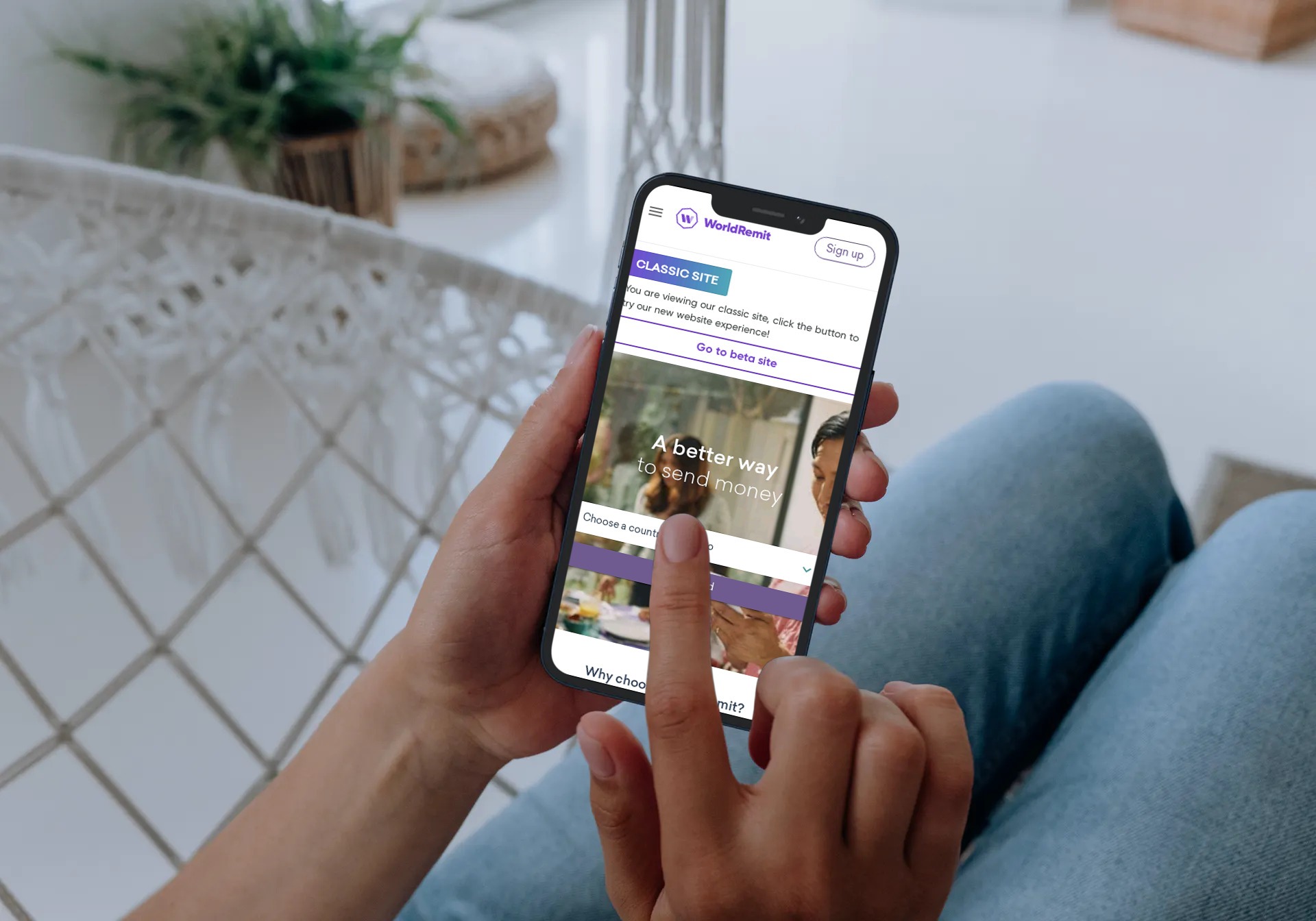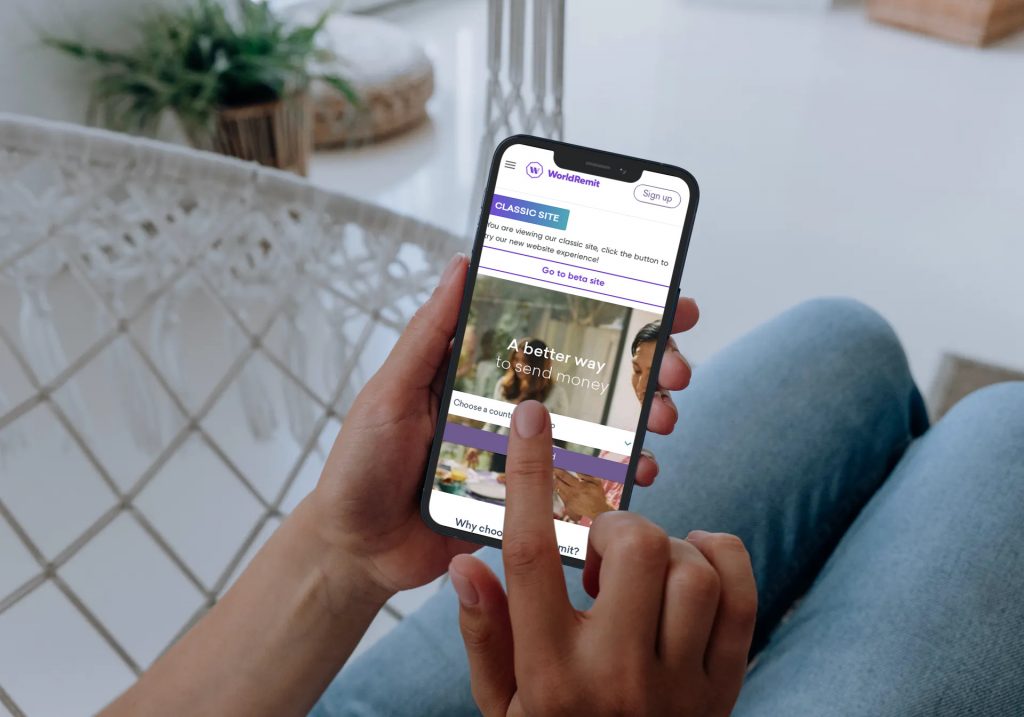 Overall, the WorldRemit app is a great example of how money transfer services should make their services accessible on mobile devices.
We tested WorldRemit extensively and found it to be a safe, reliable, and highly functional platform with great coverage. The huge user base is a clear indicator that this money transfer service is worth it. When we add the long period of time in which WorldRemit has been around, it is safe to say that it is one of the best choices out there.
Is WorldRemit Safe and Secure to Use?
We can say without a doubt that WorldRemit is a secure money transfer service. It follows all industry regulations and operates under the authority of multiple governments from around the world. On top of that, all connections to the website and mobile app are secured with a state-of-the-art 256-bit SSL encryption with a 2048-bit signature. This way, your identity and personal information are safe from hackers and other bad actors.
Is WorldRemit the Cheapest Money Transfer Service?
Not by a long shot. While the service is transparent when it comes to fees and exchange rate markup, certain country combinations and delivery types are hardly the cheapest on the market. We advise users to look up alternatives and find the best option for the specific country combinations they would use most often.
How much does WorldRemit charge to send money?
Fees at WorldRemit depend on the amount you send, the delivery method, and the country combination. Usually, fees start at £0.95, but can quickly increase due to exchange rate markup. We always advise users to compare the average transfer fees between different money transfer services in order to find the best one for their needs.
Is There a Way to Avoid Paying Fees at WorldRemit?
Unfortunately, no — there is no way to completely skip paying fees when you transfer money via WorldRemit. However, there are ways to make sure you pay the smallest amount of fees possible. Here are a few helpful tips that we found useful to keep in mind when it comes to fees at this platform.
Remember that fees at WorldRemit depend on the amount you send, the delivery method, and the country combination.
Paying by credit card is the worst scenario, as your bank will charge you extra for the cash advance.
Exchange rates for certain delivery methods are better than for others. For example, cash pickup has a better rate than a bank transfer. Unlike exchange rates, however, fees can increase with the amount of money you are sending per transaction.
What Is the Transfer Speed at WorldRemit?
While the speed of WorldRemit transactions is among the best we have ever seen, it still depends on several key factors. To be more specific, they are:
Country and currency combination
Transaction amount
Payment method
Delivery method
Additional security checks
Depending on the factors above, a WorldRemit transaction can clear instantly or take up to 7 business days. Delivery methods such as bank transfers, cash pickup, mobile money, and airtime top-ups tend to be the quickest to clear, while home deliveries generally take the longest.
How Are WorldRemit Transfers Received?
The person who sends the money chooses the delivery method and there are quite a lot of options available. The most popular ones are sending the money to a bank account or to one of the WorldRemit agent locations where recipients can pick them up as cash. Another good method is to receive the cash directly in a mobile wallet of your choosing. An interesting and quite convenient option is to get the money as an airtime top-up, essentially paying your mobile phone bills.
Some countries allow a home delivery service, with which users can send cash directly to the recipient's doorstep. There is also the WorldRemit wallet, which functions as all other e-wallets out there.
When receiving money via WorldRemit, it is essential that you inform the sender of the most convenient delivery method for them.
What Is the Process of Using WorldRemit?
WorldRemit is quite simple and convenient to use. Creating an account is easy and free, taking only a couple of minutes to finish. After that, however, you need to provide some personal information in order to confirm your identity. Only once the verification process is complete can you start sending money through the platform.
Here is a quick tutorial on how you can execute a WorldRemit transaction.
First, you must choose your country combination
Then, you should select the amount of money you will be sending and the delivery method
After that, you input the recipient's information
Once this is done, you will be able to see all transfer costs. If you are fine with them, you can choose to proceed with the transaction.
You must then choose the payment method you will use for the transaction
Finally, you confirm the transfer and get both a text message and an email that informs you that the money is on its way.
Are There Transfer Limits at WorldRemit?
The amount you can send per transaction varies depending on the country combination and payment method you are using. For example, if you are sending money from the USA, there is a 24-hour cap of $9,000 on all transactions.
What Delivery Options Does WorldRemit Offer?
The service offers a variety of delivery methods depending on the country where the recipient resides. Standard options include bank transfers, mobile money, and airtime top-ups. On top of that, WorldRemit has an extensive network of agent locations around the world where recipients can pick up their money in cash.
Can I Track my WorldRemit Transaction?
As soon as you initiate a transaction through WorldRemit, you can track it in real-time from the website/app's interface. A good option is to enable SMS notifications so you can always know the status of your transfer.
Can I Cancel a WorldRemit Transaction?
Canceling a transfer at WorldRemit is only possible if it has not been completed yet. What you need to do is contact customer support, either by phone or via one of the other available methods. However, you must keep in mind that not every cancellation request will be granted.
Does WorldRemit Allow Refunds?
Of course — refunds are available as long as the transaction in question has not cleared. If a transfer is already done, there is no way WorldRemit can take it back and refund the money to us. If you need to cancel your ongoing transaction, you need to get in touch with the customer support team. After that, you will get your money back in up to seven business days.
How Can I Contact WorldRemit's Customer Support Team?
Customer support at WorldRemit is available via live chat, email, or phone. One of the best things about WorldRemit is that CS reps are available 24/7! Below, we will list some of the phone numbers at which users can seek assistance from WorldRemit's staff.
USA: +1 888-772-7771
United Kingdom: +44 20-7148-5800
Australia: +61 2-6145-2161
France: +33 2-72-24-21-17
Spain: +34 960-473-401
Canada: +1 888-772-7771
Italy: +39 06-94803110
Can I Transfer Money Via WorldRemit Without Verifying My Identity?
No, that is not an option. Identity verification is mandatory if you want to use WorldRemit.
Does WorldRemit Accept Cash as a Payment Method?
No, cash is not an available payment method on this platform.
Does WorldRemit Allow Transfers to Nigeria?
WorldRemit is especially good if you need to send money to Nigeria. The exchange rates and fees are better than what most alternatives offer. On top of that, there are plenty of delivery options available — from bank transfers and cash pickups to mobile top-ups.
How Long Does It Take to Receive Money Through WorldRemit?
Transfer speed at WorldRemit depends on the delivery method chosen for the transaction. Cash pickups clear instantly, bank transfer can take up to five business days, and home delivery orders can take up to 7 days to complete. Airtime top-ups and mobile money usually take a few minutes to clear.
Is WorldRemit Available in the Philippines?
Yes, WorldRemit is a money transfer service that is available to users in the Philippines. It allows users from this country to send money to more than 140 countries all around the world. The only available payment options for the Philippines are debit, credit, and prepaid cards.
How Do I Verify My WorldRemit Account?
You can verify your WorldRemit account in a variety of ways. You can present a valid photo ID and a complimentary selfie. Also, you can submit a proof of address or a bank statement in order to get verified. The WorldRemit customer service will guide you through the process regardless of the method you choose.
Our team at Transferly is dedicated to finding the best deals for you to send money abroad. We research, analyze, and review money transfer providers big and small to help you find the best providers for your money transfers. With our real-time money transfer comparison engine we find the fastest and cheapest ways for you to send money online. We provide ratings based on several important criteria to our readers.