Which money transfer service is better?
Nowadays, the money transfer industry has more than a few stellar names that are known for reliability and quality of service. Two of the most prominent brands are TransferWise and Xoom — both companies enjoy hundreds of thousands of users and predominantly positive reviews. However, in such a competitive market, money transfer services need to stand out particularly well in order to be successful. So, how do TransferWise and Xoom compare against each other?
In this article, we will take a look at the main features that TransferWise and Xoom offer and see which platform performs better. If you are wondering which of these two money transfer services is the right one for you, continue reading and see what are the main benefits and drawbacks of each service. Your decision should be much easier after you have all the facts.
TransferWise was launched in 2011 and is known as "the Robin Hood of the money transfer industry." The platform offers fast and reliable transfers with exceptionally low fees. The main advantage of TransferWise is that it does currency exchange at actual mid-market rates. That's right — exchange rates at this platform come with a 0% markup. In contrast, most similar services convert currency at above-market rates, effectively using the margin as an additional fee.
Xoom is a money transfer service owned by industry giant PayPal. The main advantage of Xoom is its transfer speed, as most transactions clear in a matter of minutes. It is also one of the few services that offer cash pickup as a delivery method. Overall, Xoom is a stellar platform that supports sending money to more than 70 countries with a wide variety of delivery options. However, this speed comes at a price — the fees at Xoom are above average and currency exchange comes with a relatively high markup
Payment Methods and Delivery Options
TransferWise supports paying via bank account and debit/credit card and sends money directly to the bank account of the recipient. Options vary depending on the country combination you are using for the transfer. If you execute a transfer from a European country, for example, you can make a SOFORT transfer. On the other hand, if you are sending from the USA to Mexico you can choose to pay from your bank account via ACH. One of the great features of TransferWise is that it warns you if the bank you are sending to will charge an extra fee.
Xoom also supports payment with debit/credit cards and bank accounts. As far as delivery methods go, they vary significantly depending on the country you are sending to. Available options include cash pickups, deposits to a bank account, and even airtime top-ups. Xoom also allows you to pay utility bills in some countries.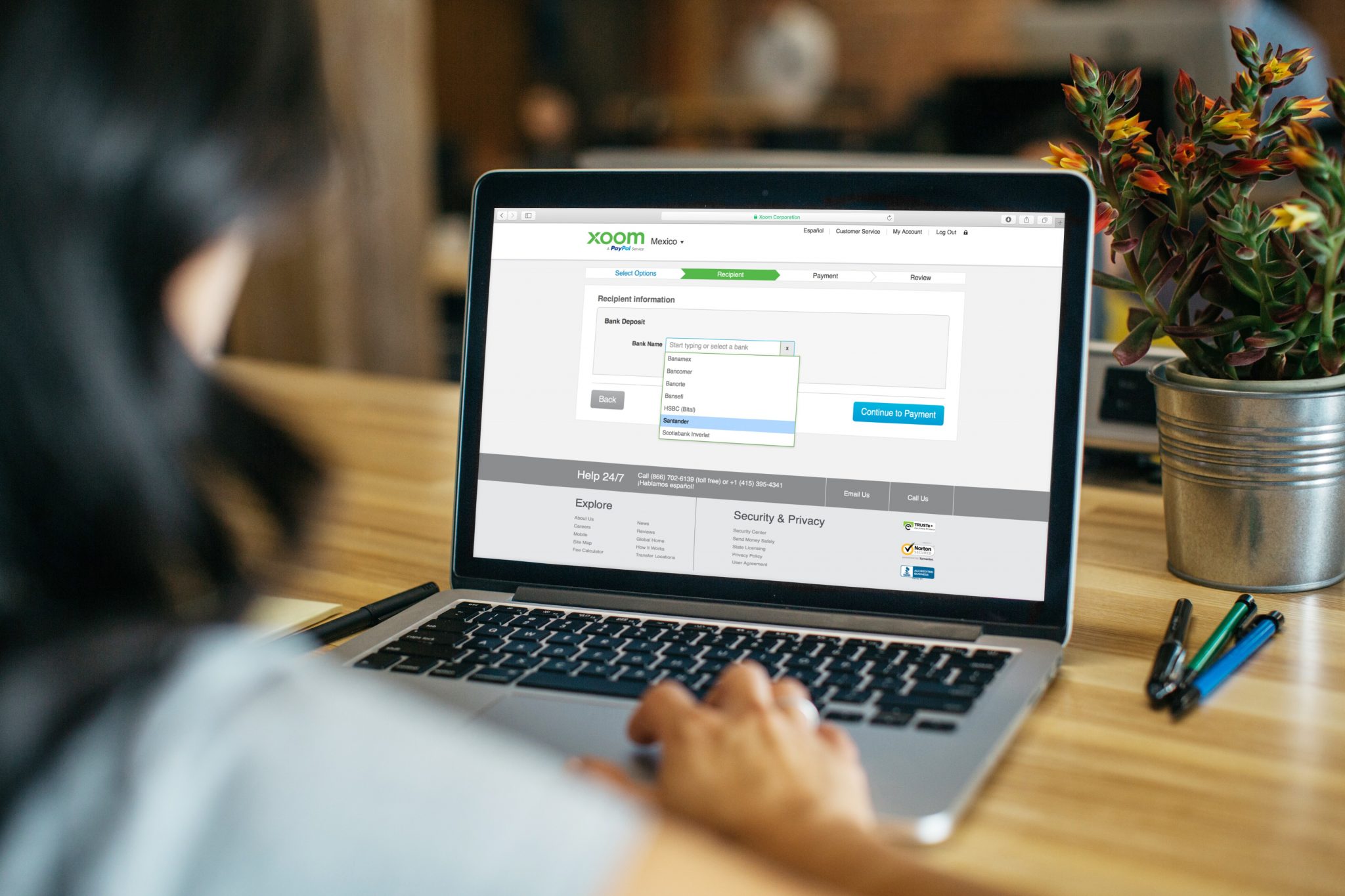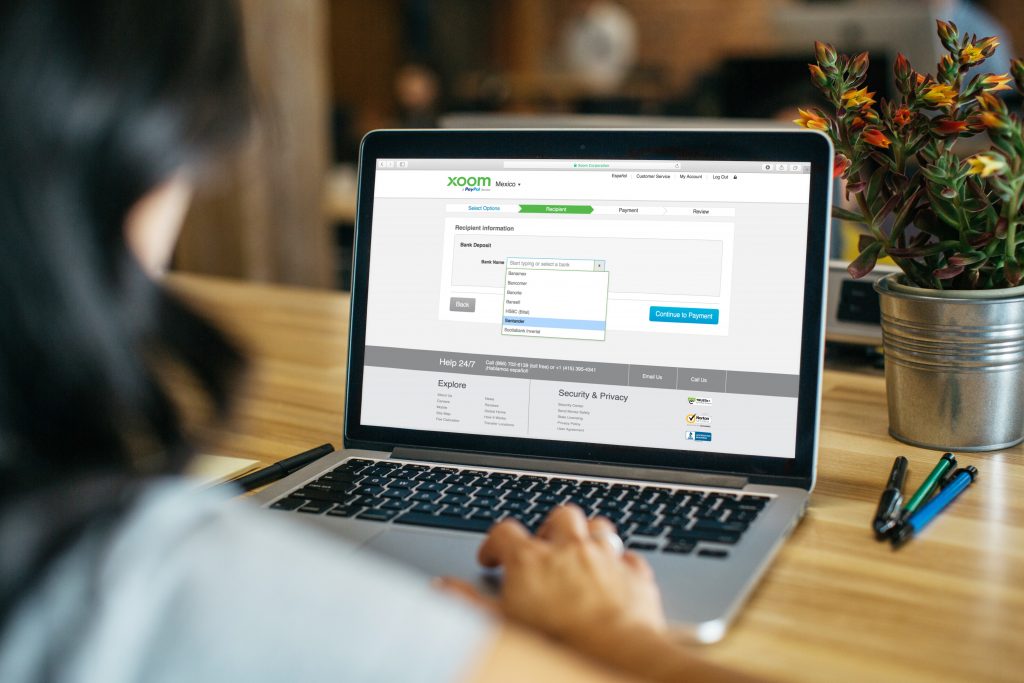 TransferWise & Xoom: Money Transfer Fees
With TransferWise, you get charged either a percentage of the amount you are transferring or a flat fee. It all depends on the country combination you are using. The fee percentage can vary from 0.6% to 1%, which is quite competitive. Keep in mind that certain currencies have minimum fees that apply for each transaction.
Xoom's transaction fees are determined by several factors — the country combination, the payment method, the delivery option, and the amount you're sending. As a result, the fees vary quite a lot and can be quite hefty at times. Xoom has a special fee calculator that you can use to see how much a transfer through the platform would cost you.
TransferWise & Xoom: Exchange Rates
As we already mentioned, TransferWise stands out with its mid-market exchange rates and zero markup. The platform will lock the applicable exchange rate at the moment of your transaction and perform the transfer in accordance. This way no money can be lost and the recipient will get the exact amount you have sent them.
Xoom, on the other hand, applies a 1% to 3% markup above the mid-market rate when you exchange currencies. Essentially, this is another fee that they charge you with, as the company makes a profit off the margin. The markup depends on the country combination and currency you are using. When you add the above-market exchange rates to the high fees, some Xoom transfers might end up costing you more than you had anticipated.
TransferWise & Xoom: Transfer Speed
TransferWise is known for its all-around great transaction speed. However, it depends on the payment method you have chosen and the country combination used for the transaction. For example, if you pay via debit/credit card, the money will probably be in the recipient's bank account within mere minutes. Paying through a bank generally takes longer, with the average time being two business days. Transfers between some country combinations can even take up to four days to clear. Make sure you check out the estimated transaction time before executing the transfer.
As we already mentioned, transfer speed is one of the main advantages of using Xoom. Most transactions take several minutes to clear, making Xoom a great tool if time is of the essence. Once again, the transfer speed varies depending on several factors, including country combination, payment method, and delivery option. Also, if you transfer more than $10,000, the transaction time will extend by a couple of days due to security checks and verification procedures.
When it comes to transfer limits, TransferWise certainly has the upper hand. You can send as little as $1 and as much as $199,999 per transaction. We should also point out that the platform currently supports over 45 currencies, with plans for even more to be added soon. TransferWise keeps you updated on the status of each transfer via email. Alternatively, you can check the transaction yourself by visiting the TransferWise website.
The minimum amount of money you can send with Xoom is $10 and the maximum — $10,000. The service supports a whopping 130+ currencies and allows tracking via email, text message, or through the mobile app. Another key benefit of Xoom is that it offers a money-back guarantee for failed transfers and 24/7 support for all its customers.
Which Is Better — TransferWise or Xoom?
As you can see, both TransferWise and Xoom are state-of-the-art money transfer services that are safe and reliable to use. It is no wonder that you might be split between the two, given the great features both platforms offer. Here are a few key takeaways from our comparison.
TransferWise offers lower fees and better exchange rates. The zero markup on currency exchange is quite important since it will ensure that every dollar you send reaches the recipient.
Xoom offers more delivery options than TransferWise. While the latter supports only deposits to a bank account, the former offers cash pickups and airtime top-ups as well. If you want to send cash, Xoom is the better option. However, you will have to deal with the high fees and above-market exchange rates.
Both platforms have great transfer speed. Average transaction times depend on a variety of factors, so it's hard to define a clear winner in this category.
TransferWise has better transfer limits, allowing you to send as little as $1. In the meantime, you can also send as much as $199,999 in a single transaction.
While it is a close call, we think that TransferWise is the better money transfer service overall. We recommend Xoom only if you need to use cash pickup as a delivery option. For everything else, TransferWise is the way to go.